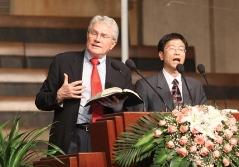 By Luis Palau Ministries,
Luis Preaching in ChinaFriday, March 26, 2010 – Evangelist Luis Palau and the Rev. James Meeks preached to more than 14,000 people in China March 20-21 at the Hangzhou Chong-yi Christian church…. Worship for the weekend was led by the Salem Baptist Church choir.  It was the first time an African-American choir had sung at the church, a fact highlighted by the number of young Chinese capturing the moment on their cell phone cameras.  The choir did a 30-minute set that had the church rocking.  When they began singing "Jesus Is Alive," the audience broke into applause showing that many of them understood enough English to show their agreement. Pastor Gu was hoping for 20,000 people to hear Palau and Meeks, but cold, damp weather and the aftereffects of a massive sandstorm north of Hangzhou in Beijing may have deterred some visitors.
Earlier in the week Palau was in Beijing to meet with U.S. Ambassador Jon Huntsman, Jr., as well as with Chinese government officials.  Palau discussed with the ambassador and Chinese officials his goal to one day hold one of his evangelistic music festivals in a public place in China.  A delegation of American businessmen accompanied Palau, including investment banker John Dalton, the former Secretary of the Navy under President Clinton.
Palau said, "I have been coming to China now for 10 years and I'm encouraged by the spiritual growth.  Many distinguished Bible teachers and pastors are emerging.  They are open about their faith, very courageous and forward-looking with great dreams for China.
"Christianity is no longer viewed as a foreign religion in China," Palau continued.  "The Chinese by the millions are saying Jesus Christ is for China and China is for Jesus Christ."
Palau said he has made many great friendships over the past 10 years with leaders in China's government.  The evangelist said he has been well received by the Chinese people, especially by both church and government leaders who view him as a friend of China.
"The leaders know how much I love China and the Chinese people.  They know my message is one of good news of the love of God.  I have had no restrictions placed on me concerning my message.  In fact, I have been impressed how positively the Chinese respond to the message of Jesus Christ, His crucifixion, and His resurrection."
While meeting with Mr. Wang Zuo An, the new director of China's State Administration for Religious Affairs (SARA), Mr. Wang told Palau the government's reformed position to focus more on religion's positive role in Chinese society and how religion contributes to China's goal of a harmonious society.  Mr. Wang praised the charitable work of the Christian churches in China.  He said, "A good Christian is a good citizen."  Harmony and stability are extremely important in China's emerging civil society, and more and more the Christian church is being viewed in a positive light for its charitable contributions and social service.
As reforms continue to take place in China there is a greater recognition that the core values of Christianity – selflessness, honesty, respect for authorities, loving one's neighbors, generosity, and charity – are values the government wants instilled in young people.
Palau encouraged Mr. Wang to make it easier for churches to register in China, suggesting that many do want to register but don't meet the current government registration requirements.  Mr. Wang introduced the idea that registration brings churches under financial accountability and oversight, much like those in America.  Palau agreed that financial transparency is important for all groups serving the public.
Palau and Wang also discussed the current tension between the U.S. and China.  Mr. Wang said the bilateral relationship between the two nations was the most important relationship in the world, and that the countries must work to find common ground and mutual understanding.
Palau met with former director of SARA, Mr. Ye Xiaowen.   Mr. Ye has accepted an appointment as the new first deputy president of the Academy of Chinese Culture.  Palau and Mr. Ye have started to collaborate on a book on spiritual life in China.
Palau also met with Mr. Zhao Qizheng, chairman of the Foreign Affairs Committee for China.  The two old friends earlier coauthored the bestselling book, "Riverside Talks: A Friendly Dialogue between an Atheist and a Christian."  The historic book is now available in Chinese, English, Dutch, Korean, Japanese, and Turkish.  Mr. Zhao, a well-known and popular diplomat, scientist, and scholar said the book was widely distributed at the Beijing Olympics.
Palau, Mr. Ye and Mr. Zhao held talks on numerous topics related to religion and culture in China.  Mr. Ye expressed his desire that "Riverside Talks" would become compulsory reading for all students in China.
# # #