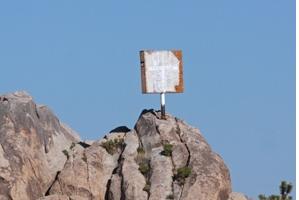 Legion Leader Hails Supreme Court Decision on Mojave Cross as Victory for Common Sense

WASHINGTON, April 28  — The national commander of The American Legion today hailed the 5-4 decision of the Supreme court reversing a lower court decision that could have required the removal of a cross that has stood in the Mojave National Preserve for more than 75 years.  "I commend the court for its decision that finally restores common sense that will enable this symbol to stand proudly as intended — a tribute to honor American soldiers who died in World War I," said National Commander Clarence E. Hill. "This is a landmark decision that not only preserves the Mojave Desert cross, but also helps protect all memorials to our fallen heroes."
The American Legion joined as an amicus curiae (friend of the court) in action favoring preservation of the monument that resulted in the case being argued before the U.S. Supreme Court last year.
"The court reaffirmed the will of the people through Congress, which passed legislation to accommodate the cross," Hill said.  "The cross should remain because Congress transferred a small plot on which it stands to a private group and addressed constitutional concerns."
Justice Anthony Kennedy wrote in the ruling, "The goal of avoiding governmental endorsement does not require eradication of all religious symbols in the public realm.  Here one Latin cross in the desert evokes far more than religion.  It evokes thousands of small crosses in foreign fields marking the graves of Americans who fell in battles, battles whose tragedies are compounded if the fallen are forgotten."
However, the battle may not be entirely over. The Court remanded the case to the U.S. District Court to give it a chance to see if any other legal alternatives exist.  However, the High Court reminded the District Court that: "Respect for a coordinate branch of Government forbids striking down an Act of Congress except upon a clear showing of unconstitutionality."
The cross will remain covered pending the District Court's review.
"The American Legion will continue to fight for the values and freedoms veterans gave their lives for," Hill said.
With a membership of 2.5-million wartime veterans, The American Legion was founded in 1919 on the four pillars of a strong national security, veterans affairs, Americanism, and patriotic youth programs. Legionnaires work for the betterment of their communities through more than 14,000 posts across the nation.