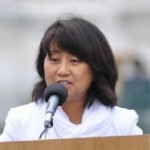 Tiananmen Square Leader Chai Ling Embraces Christian Faith and Freedom
www.ChinaAid.org
BOSTON, April 22 /Christian Newswire/ — More than 20 years ago, a young woman named Chai Ling mourned the death of political and economic reformer Hu Yaobang, a symbol of freedom and hope for the forward-thinking students of China. Hu's funeral, held on April 22, 1989 seven days after his death, was attended by 50,000 students.
Chai Ling, then a 23-year-old top-ranking national honors student at "Bei Shi Da" Beijing Normal University, became a galvanizing force in the Tiananmen Square Student Movement, rallying thousands of hopeful students, and later becoming the top leader of the protest movement.
Following the bloody Tiananmen Square Massacre on June 4, 1989, Chai Ling skyrocketed to a place on the "21 most-wanted" students list in China for organizing the demonstration. With the help of Chinese Buddhists and Hong-Kong organizations, she escaped from China in 1990, eventually arriving in the United States.
Following her immigration to the U.S., Chai Ling settled in Boston, MA, where she met and married her husband Robert Maginn, Jr. Together, they built the software company Jenzabar, which now employs more than 280 employees. Chai Ling earned her MBA from Harvard Business School in 1998, and has been nominated twice for the Nobel Peace Prize. She has used her success to give back to the marginalized in China, helping fund orphanages and humanitarian efforts in-country. Last year, she pledged to give millions to fund organizations supporting human rights in China.
"I stumbled on this idea that if only I could become a very successful entrepreneur, like Bill Gates, I could make lots money and set up a giant foundation, then I could once for all overcome and free China," Chai Ling said. Despite her fruitful actions, she began to lose hope, feeling too weak to accomplish her goal of bringing freedom to China.
In November 2009, Chai Ling attended a hearing in the U.S. Capitol on the effects of China's One Child Policy. On hearing the personal story of one woman's brutal forced abortion, Chai Ling was finally convicted that only God could stop such brutality. Through the encouragement and prayers of several mentors and friends, Chai Ling became a Christian on December 4, 2009.
Chai Ling's goal of freedom and hope for the Chinese people has not changed since her days as a student. But her perspective and focus is fresh and renewed. She now has hope for bringing God's love and freedom to the people of China, as well as raising awareness of and fighting against the One Child Policy. At her baptism on Easter, April 4, Chai Ling presented her testimony. Her story is a rousing testament to the transformational power of the Gospel, and the hope of Christ in a broken and sinful world.
Read Chai Ling's testimony
Read more background on Chai Ling
Chinese Premier Offers a Tribute to a Reformer
Chuck Colson on The Tiananmen Massacre
As the memorial of Tiananmen Square approaches, ChinaAid expresses gratitude for a Chai Ling's life and testimony, and for the thousands of Chinese who have become Christians in recent years. We encourage Chai Ling and other advocates to continue raising awareness of the evils of China's One Child Policy and to pursue religious freedom as their basic human right.
See the article at ChinaAid.org