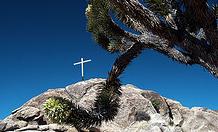 Reward Offered for Information Leading to Arrest and Conviction of Responsible Parties
PLANO, Texas, — The Mojave Desert War Memorial, which was saved temporarily by a recent U.S. Supreme Court ruling, was torn down by vandals sometime Sunday night. Liberty Institute, which represents longtime memorial caretakers Henry and Wanda Sandoz, the Veterans of Foreign Wars of the United States (VFW), The American Legion, Military Order of the Purple Heart, and the American Ex-Prisoners of War, is offering a reward for information leading to the arrest and conviction of the person or persons responsible for the removal of VFW property.
"This is an outrage, akin to desecrating people's graves," said Kelly Shackelford, president/CEO of Liberty Institute. "It's a disgraceful attack on the selfless sacrifice of our veterans. We will not rest until this memorial is re-installed."

The ACLU and its plaintiff originally won a decision to tear down the memorial cross, but that was overturned by the U.S. Supreme Court on April 28. The ACLU has stated that, as the case returns to the district court, it still plans to argue for the memorial to be torn down.
"This was a legal fight that a vandal just made personal to 50 million veterans, military personnel and their families," said VFW National Commander Thomas J. Tradewell, Sr. "To think anyone can rationalize the desecration of a war memorial is sickening, and for them to believe they won't be apprehended is very naive."
"The memorial will be rebuilt and the vandals will be caught and prosecuted in federal court, since the crime occurred on government property," said Tradewell, a combat-wounded Vietnam veteran from Sussex, Wis. "We hope this horrible act will highlight the importance of resolving this case quickly so that the memorial and land can be transferred to the VFW so that the service and sacrifice of all American war dead will be properly recognized and honored, as originally intended by a group of World War I VFW members 76 years ago."
"Reports that the Mojave Cross was illegally removed overnight are very disturbing," said The American Legion National Commander Clarence E. Hill. "The American Legion expects whoever is responsible for this vile act to be brought to justice. While the memorial has been attacked, the fight will continue to ensure that veterans memorials will remain sacrosanct."
"This was never about one cross," said Hill. "It is about the right to honor our nation's veterans in a manner in which the overwhelming majority supports. The American Legion strongly believes the public has a right to protect its memorials."
Liberty Institute works to uphold Constitutional and First Amendment religious and speech freedoms in the courts. Liberty Institute represented all major veterans groups as amici in the Supreme Court case of Salazar v. Buono involving this 76-year-old war memorial.
For more information or to leave a tip, visit www.donttearmedown.com.