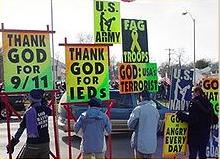 Oregon Faith News Note.
You may not know the name of the Westboro Baptist Church but chances are you have seen their signs.  They have made headlines protesting around the country with signs that say "God hates fags" , "God blew up the shuttle", "Thank God for 9/11", "God hates America"  and other inflammatory messages.   Messages that are painful even to write into the news bulletin.
They are coming to Oregon today to protest several Jewish synagoges and Christian churches.

Their draft list of protest sites include Jewish, Evangelical and Catholic places.  Here is a list;  Congregation Ahavath Achim, Havurah Shalom, Congregation Neveh Shalom, Mittleman Jewish Community Center, Congregation Beth Israel,  City Bible Church, Church of St. Michael the Archangel, New Hope Community Church.   Grant High School is on the list as well.
The Westboro Baptist protesters were previously in Oregon pretesting gender-neutral bathrooms a few years ago.
Questions have risen on wether they will actually show up today.  More can be seen from the Jewish Review here.