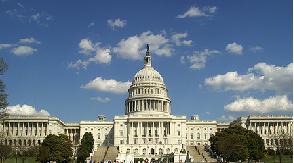 Five-point plan seeks to remedy underlying causes of illegal immigration
WASHINGTON — On Friday, a letter signed by every Jesuit major superior in the United States was hand delivered to the White House and each individual Congressional office. Their canvassing effort seeks immediate and comprehensive immigration reform. "With the new Arizona law, there is a real risk that life on our national borders will become subject to a patchwork of state responses; Congress is faced with both a constitutional and moral imperative to act," said Jesuit Father Thomas H. Smolich, president of the Jesuit Conference of the United States. "Despite what some reactionary politicians would have us believe," Smolich added, "we can secure our borders in a way that does not cost us our humanity."
With important primary elections on Tuesday and Capitol Hill staffers working on the legislative agenda for the resumption of the Congressional session, the Jesuits took the rare step of issuing a joint letter from all ten of their Provincial major superiors across the country. "In our language of religious life, we would refer to this as a kairos moment," Smolich said. "Or in the language of a baseball fan," he continued, "now is the time for Congress to get in the game." John Kleiderer, director of social and international ministries at the Jesuit Conference, worries that if Congress does not act quickly, "the lives of thousands of people on both sides of the border will be hostage to the mid-term elections and neither side of the debate will see progress toward either security or justice." Referencing the Justice for Immigrants Campaign sponsored by the United States Conference of Catholic Bishops, Smolich said "the Catholic Church has been a leading advocate of immigration reform. We wanted to send a clear message to the President and Congress as well as invite all Jesuits and our many lay partners to join us in support of the Church, speak out for the least among us and ask your members of Congress to act now."
The Jesuits are asking for legislation based on five core principals shared by the Justice for Immigrants Campaign.
1. A path to legalization that ensures undocumented immigrants have access to full rights.
2. A legal employment structure for future workers that protects both migrants and United States workers.
3. Expedited family reunification and emphasis on family unity.
4. The need for due process and humane enforcement of our immigration laws.
5. Economic development assistance and fair market access for developing countries.
For the complete text of the letter, please visit https://bit.ly/immigrationletter