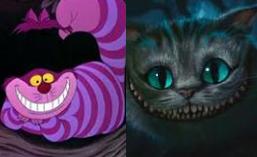 By Beaver Believer,
Oregon writer
I just watched Disney's Alice in Wonderland and turned it off half way through.   Tim Burton always makes everything too dark and dirty.   Burton exchanges Wonderland's creative imagination for his warped imagination.   Everything Burton does is about warping things and he simply cannot create anything.  The famous Cheshire cat smile is replaced by wicked fangs and the classic Mad Hatter tea party is replaced by an apocalyptical-like tea party scene.    This is important if for not the fact that too many fearsome fanged creatures and too much grizzly images are what give our kids nightmares.    Parents depend on Disney to give us what we cannot get from all the other films and that is a more family friendly entertainment – not horror movies shrunk to fit a PG rating.
Interestingly, Adults have a short 10 minute appearance at the beginning.  We learn about Alice not wearing underwear, girls swimming naked in a pool and a brother who is heartless about cheating on his wife.   It sounds like Burton is stuffing adult dirty laundry into the world of our kids who deserve a break from such things as they will spend the rest of their lives being exposed to the seamier side of things, so why rush them?
I have no idea what the second half of the movie is about, and do not care.   Disney can and should do better if they want our family's attendance.