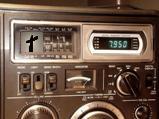 By Tim Townsend
Religion News Service
(RNS) What is the fastest growing musical radio format in the country? Is it reggae, rap or rhinestone cowboys? No, it's contemporary Christian music, or CCM, as it's known in the industry.
As of May, there were 946 contemporary Christian music format stations in the U.S., according to trade publication Inside Radio, second only to country music's 2,006 stations. The number of CCM-format stations has increased 72 percent in the last 10 years while the number of country music stations declined 9 percent.
Christians are "a huge segment of the radio audience," said radio industry consultant Donna Halper. "They just don't want to hear dirty lyrics when they get in the car with their kids."
While other FM rock stations sponsor bikini car washes or chicken-wing eating contests, stations like JOY-FM in St. Louis, Missouri, distributes Bibles at prisons, stages free concerts for single moms and collects books and toys for children in area hospitals.
JOY-FM is one of the newest stations on the scene in St. Louis, Missouri. In May, the Federal Communications Commission approved JOY-FM's $18 million purchase of the signal at 99.1 FM. Prior to the purchase, the station had fewer than 100,000 listeners. The new signal boosts its potential audience to 2.7 million.
The shift has real dollar value for the Christian music industry. Like JOY, 82 percent of CCM stations are listener-supported. Singer TobyMac's manager, Laurie Anderson, said a healthy Christian radio market is crucial.
"When you're looking into tours, you choose markets with CCM, because the station has already cultivated your fans in that city," Anderson said. It's that kind of personal connection that helped fuel CMM's growth.