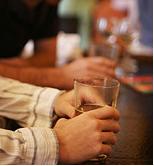 Oregon teens may outdrink CA, NV teens but a new study says religion can make a big positive difference in underage drinking
Oregon Faith News Note:
Oregon does have a youth drinking problem.   When polled, 30% of Oregon youths (aged 12-20) said they had consumed alcohol in the previous month. That is more than our party stereotyped youths down south in California (26%).  It is also more than youths in "What happens in Vegas stays in Vegas" of  Nevada  (26%).
With high drinking rates comes real life victims and real problems.  In 2008 there were nearly 5,000 arrests of Oregon teens involved with drinking and driving, violating liquor laws and drunkenness.  This cited from The Century Council.
If you are looking for answers, one new report from the Alcoholism: Clinical & Experimental Research says religion plays a key role in underage drinking.

HealthDay News reports, "Teenagers who are raised with a religious outlook are less likely to abuse alcohol, even if they are genetically predisposed to do so, new research suggests. Being religious does not, however, appear to prevent such abuse in early adulthood, the study authors found. The findings are reported in the September issue of Alcoholism: Clinical & Experimental Research.
"Our study showed that genetic factors could influence problem alcohol use more in nonreligious adolescents than adolescents with a greater religious outlook," study co-author Tanya M.M. Button, a postdoctoral fellow at the University of Colorado at Boulder, said in a news release from the journal.
In essence that means, added Button, that "religiosity exerted a strong enough influence over the behavior of religious individuals to override any genetic predisposition. The same was not true for young adults, however, for whom the genetic influence was consistent across levels of religiosity." The authors' conclusions stem from work with more than 1,400 pairs of male and female twins, both fraternal and identical, during both adolescence and early adulthood.