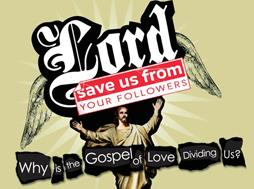 Anne Rice Denounces Christianity in the Name of Christ?
By Dan Merchant
NW Filmmaker
Lord Save us from Your Followers
Last week acclaimed author Anne Rice (Interview with a Vampire, Christ the Lord) publicly denounced Christianity on her Facebook page. While few people might be surprised by this revelation, the reasoning behind it may start valuable conversations:
"For those who care, and I understand if you don't: Today I quit being a Christian. I'm out. I remain committed to Christ as always but not to being "Christian" or to being part of Christianity. It's simply impossible for me to "belong" to this quarrelsome, hostile, disputatious, and deservedly infamous group. For ten …years, I've tried. I've failed. I'm an outsider. My conscience will allow nothing else."
Dang, Anne, I'm feeling you. I wish I could give you a hug right now.

I understand exactly what she's saying, but I also would love to introduce her to the thousands of followers I've met who WOULD remind her of Jesus. Meeting these folks and seeing their beautiful work would no doubt encourage Anne as much as it encouraged me. I also agree there is no reason to get hung up on the label: Christianity. I know lots of folks who prefer "Follower of Jesus" – fine, I don't care, but there is something cool about people who love boldly in Christ's name and seem determined to reclaim the title from those who have lost the plot or hijacked the term "Christian".
— Check out more timely updates from Anne at https://www.facebook.com/#!/annericefanpage