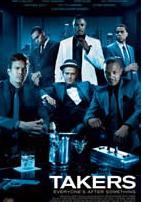 Family-Faith Film Review: Takers
By Catholic Office of Film and Broadcasting
Takers—Crime drama that devolves into a cliched exercise in gunfire, explosions and insipid dialogue. Director and co-writer John Luessenhop tells the story of a gang of five skilled thieves (Idris Elba, Paul Walker, Chris Brown, Michael Ealy and Hayden Christensen) joined, on his release from prison, by a former cohort (Tip "T.I." Harris) with a plan for the highly engineered robbery of an armored truck. Giving chase is a grumpy Los Angeles police detective (Matt Dillon). Constant stylized gun violence, an instance of male rear nudity, and pervasive crude and fleeting profane and crass language.  A-III — adults. (PG-13) 2010.