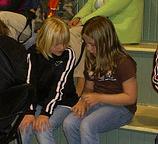 Religious Families Raise Better Children
Children with religious parents are better behaved and appear happier than children raised by secular parents, a study from Mississippi State University reports.  One of the reasons is that religious families appear to be more stable, and that provides the children with a range of benefits….
John Bartkowski, a sociologist from Mississippi State University and author of the study, questioned parents and teachers of more than 16,000 first graders about their behavior. Mr. Bartkowski discovered that children with religious parents, especially both parents, have better:
•        Behavior
•        Self-control skills
•        Social skills
•        Self-discipline
•        Attitude
•        Learning ability
The research also shows that religious parents have greater success because they generally get better social support from religious organizations and communities. Also, they have higher moral and family values implemented in their everyday lives.
"Parenting is probably one of the toughest jobs in the world," says Mr. Beato. "Parents should not neglect their child's spiritual development because it creates a good foundation for many desirable qualities, such as high moral values, self-discipline, humility, family and community."
David Beato is a well-known real estate developer in southwestern Pennsylvania, where he lives with his wife. He has one son and two daughters who are college educated and married, and his greatest joy is spending time with his children and grandchildren.
The Power of Prayer, Endurance and Truth by David Beato is available on Amazon.com and Barnes & Noble.com.