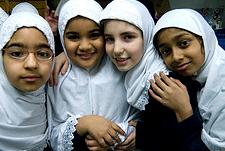 As Ramadan ends, Muslims seek school holiday
By Nicole Neroulias
Religion News Service
NEW YORK (RNS) For Nikhat Choudhury, the Muslim holidays of Eid al-Fitr and Eid al-Adha mean picking out new clothes, getting together with her cousins and feasting on homemade samosas and other traditional South Asian dishes.  In recent years, these joyous occasions have come with a struggle: Can she afford to stay home? New York City public schools allow absences for religious reasons, but Choudhury, 15, says it's much harder to catch up on the work now that she's in high school.
"I have to weigh the pros and cons of missing a test versus spending time with my family," she said. "But these are big holidays. It's like having to go to school on Christmas."
Fortunately, Eid al-Fitr, which marks the end of the holy month of Ramadan, falls Sept. 10 this year, when New York City schools will already be closed for Rosh Hashana, the Jewish New Year observance. Choudhury is not sure what she'll do in mid-November for Eid al-Adha, an annual observance that concludes the period when Muslims make the hajj, or pilgrimage, to Mecca.
Her dilemma is shared by hundreds of thousands of Muslim students around the country, except for those enrolled in the dozen or so school districts that recognize one or both of the Eids. These range from Dearborn, Mich., where more than half the 18,500 students are Muslim, to Burlington, Vt., whose 3,600 students include a growing number of African and Middle Eastern immigrants. Several New Jersey districts give one or both of the days off, as well.
After an enthusiastic rally on the steps of City Hall in June, the Coalition for Muslim School Holidays found itself eclipsed by the controversy over the Islamic community center and mosque that planners propose to build blocks from Ground Zero.
But the campaign continues, even as the 2010-11 school year gets underway, said Faiza N. Ali, community affairs director for the New York chapter of the Council on American-Islamic Relations.
New York Mayor Michael Bloomberg should be given credit for defending the right of Muslims to build the Islamic community center, she said, but local Muslims do not want to conflate the Ground Zero issue with Muslim school holidays. "We are not a one-issue-only community."
The City Council voted 50-1 in favor of the holidays last year. In New York, schools must offer a minimum of 180 class days; Bloomberg has said that adding the Eids would require making up days elsewhere, and would create a slippery slope for the city's myriad other groups with their own holidays—such as for Diwali, Hinduism's autumnal festival of lights.
"We want to keep kids in school for more days, not less," explained Jessica Scaperotti, a spokesperson for the mayor's office, who said the holidays haven't budged since the 1978 addition of Martin Luther King Jr. Day. "The city is not going to add any more days off."
But the Islamic calendar rotates, putting only five of the next 24 Eids on a planned school day. The Department of Education has the flexibility to add another day or two to the academic calendar once in a while, Ali argues, noting that officials had considered rescheduling the first day of school this year due to the early Rosh Hashana observance.
Officials from districts that have added the Eids said they were convinced to do so after their absence rates doubled or tripled on those days.
"When those numbers get to a point where it's inefficient to continue operations, when it's impacting funding, then it became part of the discussion," said David Mustonen, spokesman for the Dearborn district, which added the Eids eight years ago.
Last Eid al-Fitr, about 70 of Burlington High School's 1,100 students stayed home, which is "a significant number for us," explained Jeanne Collins, Burlington's superintendent.
But with more than a million students from hundreds of ethnic and religious backgrounds, New York City's massive school system doesn't have such a clear line in the sand.
The 2002 Columbia University Muslims in NYC Project estimated that about 100,000 pupils are Muslim—about 12 percent of the student body—but the Department of Education only tracks racial demographics.
The addition of the Jewish high holy days was prompted by staff demographics as well as students; the coalition has not yet determined how many of the city's educators are Muslim, or how Eid attendance rates historically compared to other school days.
Encouraging Muslim students and staff to stay home on the holidays and keeping track of the absent rate every year, rather than rallying on the steps of City Hall, may be a more effective strategy, especially if the anti-Muslim sentiment over the Park51 project worsens, some coalition members privately argue.
But, it means that teenagers like Choudhury would have to risk falling behind in their studies, especially if their teachers aren't flexible about rescheduling lessons and exams.
If she had to do it again, her cousin Rebecca Chowdhury, now a sophomore at Ohio's Kenyon College, said she would have celebrated properly, rather than worrying that she couldn't afford to miss a day of Stuyvesant, one of the city's most competitive high schools.
"I had to choose between doing well in school and celebrating an important holiday with my family," she said. "My parents understood, but it was a big disappointment. Now, I'm too far away and it's too expensive to go home."