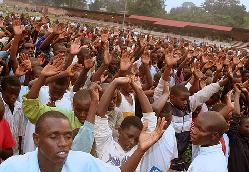 Africans Pray for America
By African Strategic Leadership Prayer Network
50,000 people, Africans and Americans alike, are expected to descend upon the Capitol West Mall in Washington DC on Saturday, October 16, 2010 from 10 a.m. until 6 p.m. and participate in Africa Prays For America, a unique and unprecedented prayer gathering hosted by the African Strategic Leadership Prayer Network (www.aslpn.org).
African Strategic Leadership Prayer Network (ASLPN), an assembly of African Christian leaders from around the world, is a non-profit Christian charitable organization dedicated to prayer and intercession. The ASLPN said, "We are coming, leaders and lay people, we are coming from dozens of African Nations, we are coming 50,000 strong to petition heaven in unity. We, African believers, call all Christians to join us on October 16 to pray for America. May our light never go out."
Billy Wilson, Executive Director of the Awaking America Alliance (www.awakeningamerica.us) said, "For hundreds of years, America has been sending missionaries to Africa. Passionate men and women gave their lives to reach souls thousands of miles away and continue to bring the gospel to millions in that heartland. But now, America's light grows dim and it is Africa's time to reach out and pray for America." Wilson continued, "We are grateful for the African Nations response to America's spiritual need and deeply encouraged by their desire to bring Christians together to intercede on behalf of America through prayer."
Pastor Michael Dada from Deeper Life Bible Church (www.deeperlifedc.org) in Washington, DC, said, "The nation of America has been a blessing to almost every other nation under heaven at the peak of her glory. The poor and the weak, both as a nation and as individuals have all taken refuge under her protective wings.
"My church and I have decided to join Africa Prays for America," Pastor Dada continued, "because we believe that God will have mercy and restore the spiritual, political, economic and social status of America for His glory. (Haggai 2:9) 'The glory of this latter house shall be greater than of the former, saith the LORD of hosts: and in this place will I give peace, saith the LORD of hosts.'"
ASLPN invites every tribe, every community, every church and every city to participate in Africa Prays for America on October 16, 2010.
Bishop Darlingston Johnson, Senior Pastor of Bethel World Outreach Church and Presiding Prelate of Bethel World Outreach Ministries International (www.bwomi.org), said, "We are gathering together the African Church to pray for this nation because more than ever America desperately depends on the prayers of the church."
For more information, ONLINE ATTENDANCE REGISTRATION FORM and Special Hotel Rates please go to www.aslpn.org, Email: [email protected] or call 877-29-ASLPN (27576). Join ASLPN on FACEBOOK and Follow ASLPN on TWITTER.
TO BOOK an INTERVIEW or SPEAKING ENGAGEMENT with the leadership of ASLPN, please call Shola Ajiboye at 317-418-4653/ email: [email protected].