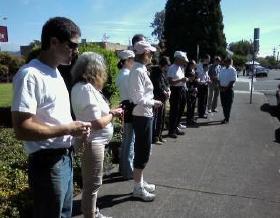 Real Catholic Men
Oregon ministry
The 2nd Annual March for Purity was held on Saturday, September 11th in Beaverton, Oregon.  Close to twenty men, women and children participated in the procession that took us to Planned Parenthood, Starz Cabaret, The Dolphin Gentlemen's Club and Fantasy Adult Bookstore.
The weather was perfect and the people who marched were incredibly supportive of what we were trying to do that day. As you can imagine, we got some interesting looks and comments from the people passing by.
The March for Purity is not so much an "anti" event, as it is a "pro" event. The March shows that Catholics are striving to create a culture of life, dignity and respect for men, women and our God-given sexuality.
Remember: We are currently in the midst of another 40 Days for Life campaign. If possible, please take part in this national movement to promote life. For more information on go to https://www.40daysforlife.com/index.cfm .