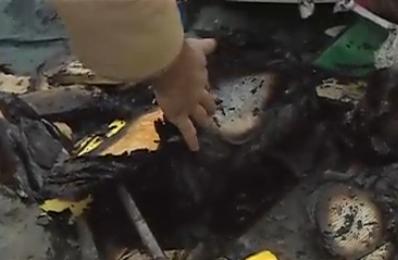 Oregon Faith Report News Note:
On Sunday an arsonists torched the Salman Alfarisi Islamic Center in Corvallis where the Oregon bomb plot suspect Mohamed Osman Mohamud attended worship. Mohamed Osman Mohamud is under custody for trying to explode a bomb during the Portland Tree Lighting ceremony on Friday.  Most of the Mosque was destroyed and the FBI has issued a $10,000 reward for leads.  Portland Mayor Sam Adams is pushing for more police patrols around Portland mosques. Area Somali Americans are planning a peace and unity rally outside Portland City Hall today at 5pm. In their statement they say ""The Somali American community strongly condemns any type of violence. We left Somalia because of violence."
Salman Alfarisi Islamic Center said of the bomb plot, "Such conduct does not in any way represent Islam or Muslims," and "rather it goes against it."  Of the arson of his mosque the imam said "This is not Corvallis. This is a community tragedy, not just a mosque tragedy. A part of me hopes this is not arson. I'm not used to seeing these things in this small town."   The imam further explained to KGW-8 TV that the mosque has been in Corvallis for over 40-years and is older than most buildings in the area.
Kayse Jama, an Oregon Somali who is part of an organization that fights Muslim discrimination told the Associated Press, "We left Somalia because of war, and we would like to live in peace as part of the American community," said "We are Portlanders. We are Oregonians. We are Americans, and we would like to be treated that way. We are your co-workers, your neighbors."
In early court documents it shows that he felt "betrayed by my family" for their blocking his trip to Pakistan and later saying, "To my parents, who held me back from Jihad in the cause of Allah. I say to them, if you make allies with the enemy, then Allah's power will ask you about that on the day of judgment …"
KGW-TV did a story of the mosque burning


KATU did this story, "Who is Mohamed Mohamud?"