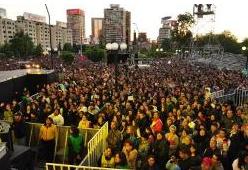 Rescued Miner Joins Evangelist Luis Palau and Son Andrew for Historic Campaign in Chile
— National festival reaches 145,000 people, including President Sebastian Piñera
Luis Palau Ministries
Beaverton, Oregon
Santiago, Chile – In a nation marked by tragedy and suffering in the past several months, Chile Festival 2010 with world evangelists Luis Palau and son Andrew Palau brought encouragement and hope to the region this past week, October 25–30. The festival, which took place in Santiago and Viña del Mar, reached more than 145,000 people through live events and millions more through media broadcasts.
Rescued Miner Joins Palau
Luis Palau, miner Jose Henriquez, Andrew PalauUnique to the initiative was the participation of rescued miner Jose Henriquez, who had requested biblical audio messages from Palau while trapped in the mine. Known by many as "the pastor" and the spiritual leader while in the mine, Henriquez was the 24th of 33 miners to be rescued from 2,300 feet below the earth's surface.
Henriquez shared his testimony at the major festival in Santiago (population 7 million) on Friday night, October 29. Speaking to tens of thousands of people who had come to the Plaza Italia to hear Palau, Henriquez's story clearly made an impact on those in attendance, helping lead thousands in public commitments to Jesus Christ. Henriquez reported that during the 69-day ordeal 22 of the 33 miners prayed to surrender to Jesus Christ. He commented in a private gathering with Palau, "I do hope they will follow through and walk with Christ for life."
Henriquez's story continued to go out on Saturday, October 30, when the evangelist Palau spoke to the crowd while wearing the shirt that Henriquez was wearing when rescued. He used it as an illustration for his own evangelistic message, sharing the hope we all have in Jesus Christ.
Palau with President Piñera
Andrew Palau, President Pinera, Luis PalauDuring his time in Chile, the evangelist, who was accompanied by his son Andrew, also spent 30 minutes with President Sebastian Piñera. They discussed several serious topics during their meeting, including the importance of public officials recognizing God in their statements and speeches. Palau pointed out the promise made by God in the Bible, "Those who honor me I will honor."
The evangelist also shared the biblical story of the prodigal son with President Piñera – a picture similar to that of the president welcoming the miners one by one during their rescue operation. "I don't believe it's sacrilegious," said Palau, "to say that during that operation you were a picture of God the Father welcoming those who repent and believe in Jesus Christ, whom He welcomes one by one."
Evangelist Andrew Palau in Viña del Mar
Vina del Mar crowd listens to Andrew Palau's message.The week-long campaign began with evangelist Andrew Palau on the western coast of Chile in the popular destination city of Viña del Mar (population 300,000). Known for its annual music festival and first-class venues, this was the first time in the history of the city that the popular Quinta Vergara Amphitheater was filled to capacity on a weeknight. It was a great indicator of the widespread excitement for what would continue throughout the week.
In addition to the major efforts in Viña del Mar and Santiago, meetings took place throughout the week, helping further saturate the area with the Good News. They included outreaches for women, business leaders, youth and children. In total, more than 145,000 people were reached in person with the Good News message, while more than 13,000 documented decisions for Jesus Christ.
Historic Effort in Santiago
The crowd in Santiago listens to Luis Palau.Wrapping up the successful week of ministry, tens of thousands of people crowded Plaza Italia in downtown Santiago to hear Palau, his son Andrew Palau, and Henriquez's testimony. They were joined by popular musicians, among them being Marcos Witt and Jaci Velasquez.
The Chile campaign, which marked the last in a series of successful festivals in 2010, brought together leadership from all denominations and sectors in an historic effort. It also helped to bring hope and peace to a nation that has faced a number of tragedies in the past several months, including the catastrophic 8.8 magnitude earthquake last February.
In total, the Palau Association and its ministries have reached more than 1 million people face to face in 2010. Campaigns for both evangelists in 2011 include efforts in Jamaica, Vietnam, France, Burundi, Paraguay, China, and several cities throughout the United States.