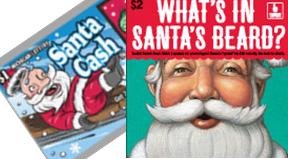 Get Santa out of the Lottery!
By Beaver State Believer,
This year Oregon State Lottery is running scratch-it tickets called "What's in Santa's Beard?" and last year the Michigan Lottery ran "Santa's cash" tickets.   Why is Santa Claus selling lottery tickets.  Santa belongs to the kids not adults.  I suppose some purists could even make the case that Santa belongs to St. Nicholas which then reflect his faith and virtue which is even farther removed from hawking money games.   People get mad at Joe Camel in cartoon for its impact on kids.   Yet there is no connection with an animated camel and children.   With Santa the connection is 100% about kids and the magic lore we all share.  It is just tasteless and sad to see advertisers snatch one of our cultural traditions and try to adultize it and make money of it.   
If Santa wants to sell TV sets that is fine.   At least the family who buys a TV set gets what they wanted.  With the lottery most people come away with nothing.   Some families will come away with a new addiction.    It goes from Santa selling a product to selling a belief system.  That is where I feel it crosses the line.  The Oregon Lottery has around a three million dollar advertising budget.  With that kind of money they could invent their own characters instead of robbing us of ours.