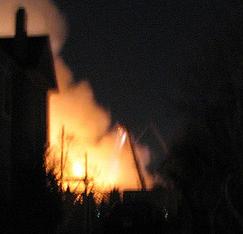 Portland burned church unable to rebuild
Oregon Faith News Note
About four years the northeast Portland church, Morning Star Missionary Baptist , was burned. People in the community rallied and in 2009 began groundbreaking to rebuild. The church ran into the recession and failing funds and now has to cancel the project. Rising costs and expectations also handicapped the project to the point of impossibility. The original estimates to rebuild were $1 million and grew to $4 Million as time went on.
Rev. Albert Wayne Johnson said, "The moment we came out at the groundbreaking and asked for help to build, we really thought we would be able to do it. We figured concrete companies and roofing companies would come through for us and help us out. But in this economy, they have not come forward.We never thought it would have been this long," he said. "Looking back, I never would have thought the costs would have been such. But when you are a Christian you believe that some way, somehow … God is going to step in and maybe something miraculous is going to happen."
Read more on the cancellation of the Morning Star church here.