Oregon Faith News Note:
A year ago Oregon Faith Report ran a story about the Tim Tebow rule which banned the use of messages on athlete face paint. It was named the Tim Tebow rule because the famous College quarterback would put Bible verses on his eye patches. The NCAA last year ended this practice. Now Tebow has been ushered into the National Football League with a spot for the Denver Broncos. Recently Tebow has been seen wearing a wrist band with a suspected Bible verse on it. Sports watchers seem to peg the verse as Luke 2:10-11 which talks about the angel announcing the Christmas message of great joy and the Messiah.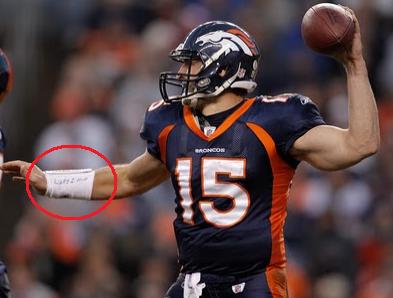 The next question is will the Tebow Rule follow him and make arm messages banned?