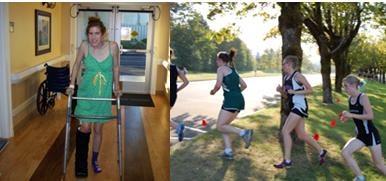 NW student shares car crash, faith experience
By Sheila Allen
NW Baptist Convention
GRESHAM, Ore. — The only warning before the tragic accident was a flash of light. Still nervous about leaving her Gresham, Ore., home, Marisa Benson had endured a long day of orientation at California Baptist University before leaving that afternoon for a high altitude training camp as a cross country runner for the school. It was then the world began crashing down around Benson, who at 8:20 p.m. was chatting with new roommate Rebecca Trupp, having just traded seats with others in two additional 13-passenger vans. The group was caravanning to Mammoth Lakes, Calif., for training prior to classes beginning at the Riverside, Calif., campus.
"I blacked out briefly and woke up when Coach Watkins was trying to get people out," said Benson, a lifelong Oregon resident who joined her older sister, Andrea, in attending CBU. "My right leg was hurting like nothing ever before and I screamed at coach to get me out, but he couldn't."

Benson was seated directly behind driver Wendy Rice, a CBU cheerleading coach, who died in the accident. Wedged tightly between the seats due to the roof and floor of the van caving in and the walls of the van collapsing accordion-style, with the windows blown out, Benson couldn't move. The accident occurred after an oncoming SUV became out of control, rolling and barely missing the CBU van in the lead before barreling head-on into the second van Benson was riding in. The last van was able to swerve and miss the accident, but another vehicle collided into the wreckage. Two people from the SUV, which caught on fire, were also killed in the accident.
"I kept asking for Rebecca and was really frustrated that she didn't answer me, but I didn't realize that she had suffered major head trauma," Benson said. "Eventually a fireman was able to pull us out and I was rushed with Rebecca to a hospital in Bishop, Calif."
Her right femur and fibula were broken clean through and not touching, Benson also suffered other minor injuries. Surgery was performed the next day after a medical plane arrived from Coos Bay, Ore., and flew Benson and her mother, Kerry, to Southern California to a hospital preferred by their medical insurance plan.
"God watched over me because it should have done much more damage," Benson said. "It was unclear for three days if Rebecca would live. I was in the hospital for five days and then went to a rehab center for two weeks. Twelve people went to the hospital and six were released that first night."
Kerry Benson rushed to the Bishop hospital with friends and others immediately began to come to the aide of Benson, including people from the Mammoth camp and another team member's father who came to her room to pray that first night.
"I was able to talk to my dad that night, and he was surrounded by people from Greater Gresham Baptist, our home church," Benson noted. "He showed up in time for my surgery, where they inserted a titanium rod in my leg, which attaches to my hip and right above my knee, and is the best way to go for a runner. I was up and walking the day after my surgery, without putting any weight on my leg, of course."
Benson returned to the CBU campus in time for classes to start, with her mother's assistance for the first few weeks. She alternately used a wheelchair, electric scooter, walker and a cane to get around the grounds. While at first attempting to continue with a full load of classes, Benson first dropped one, then another class to accommodate her rehabilitation and recovery.
"My coach made a schedule out for my team members to help me," Benson said. "They would pick me up for therapy, chapel, meals and classes. My nearby roommates would get me breakfast and water when I needed it. My sister, Andrea, helped me shower, took me to meals and to church. She stepped up and did stuff for me because she felt so responsible for me since my parents weren't there. It was very humbling and caused me to realize the things I had taken for granted. It was hard not having my church family there encouraging me."
While Benson felt God's presence even while still trapped in the van and at the hospital, some of the emotional weight of the accident did not hit her until she reached the rehab center. She still grieves the loss of Wendy Rice for her husband and children who were left behind. Extended bouts of sleeping and crying were necessary to the healing process.
"I knew people cared and loved me and were praying for me, but I sometimes still felt like I was struggling and weighed down," Benson said. "I received some counseling from staff at CBU which really helped. There were days I cried out to God and was angry, but didn't always let people know that. I am still overwhelmed at certain points about putting to practice what I hear when I attend church — that personal relationship with God is still hard. But God worked some amazing things out, with people who were in California, people I have met through this that I've become close to – there are blessings in this. God is all-knowing and he was ready and prepared us for this."
Benson feels like she is in the right place, even though she initially doubted her decision to stay at school following the accident. An admitted home-body, she has had to push out of her comfort zone. She has also healed more quickly because of the CBU facilities available to her to help in her physical recovery.
"My profs were understanding and cared about me," Benson said. "I can talk to the girls on my team about what happened, because they were there. Some of them actually saw more of the accident than I did because they weren't trapped."
Other things loom ahead, yet to be conquered, such as returning to driving and beginning to run with the cross country team in the fall, for which she received a scholarship. Meanwhile, she recently began jogging and retraining her body to do things that would seem automatic. "I don't feel like the person I did when I left home," Benson said. "I feel stronger in my faith and know that I can handle so much more now. Simple things like walking, taking a shower and being with loved ones mean so much more. I want to make a difference with this story people can relate to. This rod in my leg will always be with me and is a reminder of what God pulled our team through."