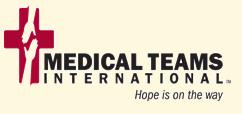 Portland doctor heads into Libya firestorm
By Medical Teams International
(PORTLAND, Ore., Feb. 25, 2011)—Dr. Omar Reda, Portland, Ore., leaves tomorrow for his Libyan homeland to help those wounded in recent protests that have reportedly killed hundreds and wounded thousands. Medical Teams International organized medicines and supplies, valued at $421,000, for Dr. Reda and three other doctors to take from Egypt into Libya.
Dr. Reda, a psychiatrist at Oregon Health and Science University, and three surgeons, may live in the U.S., but their hearts are in Libya. They have relatives and contacts living in the turbulent nation who can help the doctors on their medical mission. Dr. Reda said it's safe for them to enter Libya and distribute the supplies in Benghazi, a city now held under the control of leaders opposed to long-time Libyan President Moammar Gadhafi. There also are three hospitals and two trauma centers operating in Benghazi, Dr. Reda added.
Medical Teams International has arranged to ship the needed supplies from Europe to Egypt where Dr. Reda and his team will escort the medicines across the eastern Libyan border to the Benghazi hospitals for use. The supplies will provide care for 10,000 people for three months, said Bas Vanderzalm, president of Medical Teams International.
"We are grateful for doctors in our own community who are willing to volunteer and go into Libya to bring care and comfort to those who have been hurt in the ongoing conflict," Vanderzalm added.
Medical Teams International is accepting donations to help pay for the shipping of supplies from Europe to Egypt, along with other needs that may arise in the Middle East as turmoil sweeps through the region.
If you would like to send a gift today to help, please visit www.medicalteams.com to make an immediate, secure donation online. You can also call 800.959.4325. Or send your donations today to Medical Teams International, P.O. Box 10 Portland, OR, 97207. Please earmark your gift for: Middle East Relief.