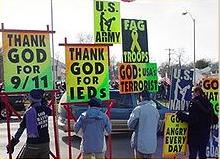 FUNERAL CIVILITY ACT ADVANCES TO HOUSE FLOOR
By State Representative Patrick Sheehan,
SALEM—The House General Government and Consumer Protection Committee today approved HB 3241 to prevent picketing and other disruptive activities at funeral services, burial services and other memorial services. The bill now moves to the House Floor for a full vote.
Though HB 3241 applies to all funeral, burial or memorial services, Rep. Patrick Sheehan (R-Clackamas) and Rep. Jim Weidner (R-Yamhill) say the bill will help protect families of fallen service members from a controversial group that pickets military funerals.
"I'm pleased the committee approved this important bill and I look forward to its passage on the House Floor," Rep. Sheehan said. "I appreciate the bipartisan support for the Funeral Civility Act and the committee's efforts to improve the bill."
Under HB 3241, a funeral or memorial organizer may "reserve" public property within 400 feet where a service is to be conducted and exclude individuals, such as protesters, who are not invited to attend. If a local government charges a fee for the reservation, they must provide a waiver for funeral services of military service members.
In addition, the bill prohibits people, under certain circumstances, from disrupting a funeral service within 1,000 feet of where the service is conducted.
"This bill will help grieving families at a time when they're most vulnerable," Rep. Weidner. "The Funeral Civility Act will ensure that their loved ones, especially fallen service members, are treated with the dignity they deserve."