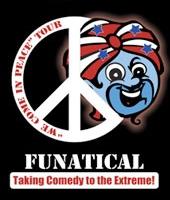 Interfaith comedians unite to create Funatical
– A diverse mix of Jewish, Muslim , Sikh, and Christian Comedians are set to start the 'FUNATICAL' Comedy Tour in D.C.,
WASHINGTON—PlanetPix Media & Entertainment Group is raising the stakes again after a string of interfaith comedy shows that launched in the Los Angeles area in December 2010. The group announced recently that 'FUNATICAL: Taking Comedy to the Extreme's "We Come in Peace" Tour' will arrive in the Washington D.C. area on Thursday, April 14th, 2011 (7:30 pm) at Arlington Cinema & Drafthouse in Arlington, VA and Saturday, April 16th, 2011 (8 pm) at Ernst Cultural Theater at NVCC in Annandale, VA.
Diverse line-up includes world famous comedian AHMED AHMED (Egyptian Muslim; 'Iron Man,' 'You Don't Mess With The Zohan,' 'Vince Vaughn's Wild West Comedy Show,' Tonight Show with Jay Leno, 'Axis of Evil' Comedy Tour, Comedy Central and Showtime), MATT KAZAM (Jewish-Iranian; NBC's 'Last Comic Standing'), MARIA SHEHATA (Egyptian Christian; Comedy Central, Showtime), OMAR REGAN (African American Muslim; Rush Hour 2), PAUL SINGH (Indian Sikh; Apollo Theater, Carolines) and SAID DURRAH (Palestinian-Jordanian; 'Arabs Gone Wild'). Hosted by TEHRAN GHASRI (African-American Iranian; Laugh Factory).
With the recent deadly riots stemming from the burning of a Quran in Florida, religious and cultural tension is growing in American and around the world. 'FUNATICAL' breaks stereotypes and bridges gaps between people of diverse backgrounds and religions by promoting unity through laughter. Comedians poke fun of culture, race, politics, religion and current events, which they lampoon with humor and satire. The shows are produced by an interfaith team who uses comedy as an equalizer to counter prejudices in a humorous way.
Producers and performers of 'FUNATICAL' have also been invited to speak at panel discussions at The National Press Club on April 14th and Georgetown University on April 15th. VIP guests include Washington D.C.'s influential media, government officials, business leaders and public figures.
The shows will benefit the Nooristan Foundation, a 501c3 nonprofit that provides support for charitable and educational projects in Afghanistan.
PlanetPix Media & Entertainment Group is a multicultural media, communications and entertainment production company that promotes cultural understanding and unity.