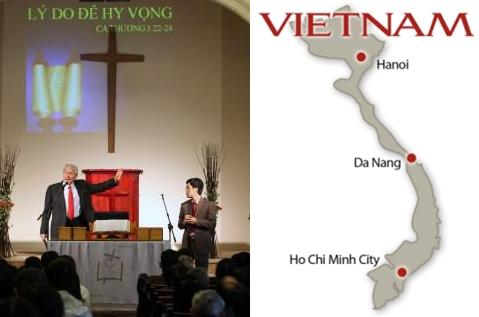 Oregon evangelist Luis Palau Invited to Vietnam
By Luis Palau Ministries,
(Portland, Oregon) – Luis Palau will join with Christian leaders throughout Vietnam for historic celebration events this spring. With events scheduled in Ho Chi Minh City (Old Saigon), Hanoi, and Danang, the effort will focus on the 100th anniversary of the establishment of the first Protestant church in the nation. The gatherings will be the first of their kind since the country's reunification in 1975.
Speaking to 500 Vietnamese church leaders in Hanoi last spring, Palau commended Vietnam's pastors for their unity, respect for authorities, and passion for church growth. And now, with nearly every evangelical denomination inviting Palau back as a guest for the upcoming celebration, local leaders are anticipating attendance for these historic events to reach into the hundreds of thousands.
The effort—directed by local believers—will include a series of region-wide celebration events, starting with gatherings in Ho Chi Minh City and Hanoi in April. Palau will return to Danang and Hanoi in June to participate in follow up events and celebration services.
These events represent a tremendous advance within the nation, showing the goodwill that has been built among government leadership and the church community. It also represents the first time all denominations have come together in unity and partnership.
Vietnam, the world's 13th most populous nation, has seen tremendous church growth over the last several years, growing from 100,000 believers in 1975 to more than 2 million in 2010. Church leaders have a vision to see that number increase to more than 10 million by the year 2020 (representing more than 10 percent of the nation's population). They see Palau and his team as playing a strategic part in this growth over the next several years.
The Oregon-based Luis Palau Association has brought a message of hope through faith in Jesus Christ to more than 1 billion people through radio, television, the Internet, books and articles, including 28 million people face-to-face in 73 nations. Palau's daily radio broadcasts are heard by tens of millions of listeners on 3,000+ radio outlets in 48 countries. He is the author of close to 50 books including his latest, "Changed by Faith" (Tyndale, 2011), which released this month.