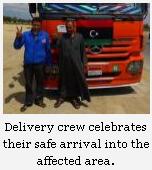 Libyan Arab Jamahiriya,
As seen on Liquid Cloud Eleven
HISG has successfully delivered a truckload of food supplies to Benghazi, Libya to alleviate the food shortage in the country. The shipment contained 20 metric tons of milk and flour to re-stock local bakeries in Benghazi. Often in this type of food crisis, local people begin to believe that the only way they will survive is with handouts from international relief agencies. However, by supplying local shops instead of simply handing out the food, HISG is empowering the community to take true ownership of the project, and allowing local businesses to lead the way in meeting the needs of the people.
This shipment was supported in part by Music for Libya, an international campaign to raise awareness and money for people suffering in Libya. Every download of a Music for Libya track or album helps HISG reach out to people trapped in the middle of a deadly conflict. Individual songs are just $0.99 (US) and the entire 17-song album is only $9.99. You can click here to sample the music or buy the album.