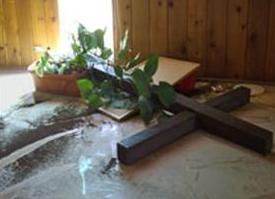 Salem Bible Church cancels Easter  due to vandals
By Oregon Christian Post
On the day before Easter a group of teen vandals broke into the Salem Bible Church and ransacked the place.   So damaging was the vandalism that the church had to cancel Easter service into a clean-up. A beer bottle was thrown through a  window, the cross was torn from the wall and graffiti was sprayed on the church walls.
Police were alerted about the break in and were able to arrive on the scene and arrest the vandals.  About five teens were involved with some of them as young as 13 and 14.
The police called Home Depot to donate supplies to board up the busted windows to secure the church.  The Salem Bible Church is a small congregation of 30 worshipers.
Pastor Walker of the Salem Bible Church told the Statesman Journal, "These days children tend to have the freedom to do whatever they want without any involvement by their parents. We've forgiven these boys, but we're also going to hold them accountable."
See photos of the destruction here