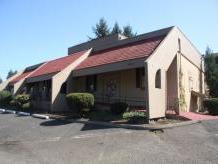 Vancouver Church Challenges the Status Quo on Church Facilities
— By North Creek Church, Vancouver
North Creek Church in Vancouver, Washington is aiming to raise $2.5 million dollars to redefine how a church building functions.
Pastor Mark Newell explains, "The reality of church real estate is that they are very often the largest buildings on the block with the least amount of public accessibility throughout the week. Most people drive by countless churches every day, but have no reason to ever step foot inside. North Creek Church is aiming to change that reality."
The strategy is a multi-use concept that doubles the church's meeting space with a variety of businesses and options to benefit the community. The public use options include a coffee shop with a large play area for parents with children. Also, included in the plans are a youth center, complimentary meeting rooms for businesses, and study rooms for college students. There is additional square footage for a variety of other options, such as a book store, a sound studio, and office space. The large parking lot of their intended facility could also double as a farmer's market or a car club meeting area during the summer.
"Basically we want as many reasons for as many people as possible to access our facility.regardless of their church membership." Mark explains, "Because we are located in the Hazel Dell area of Vancouver, which has a higher rate of crime, we need to be proactive in creating a new sense of community. As part of the revitalization of Highway 99, the county is looking for community businesses that are open at extended hours in order to help limit opportunities for vandalism, theft, and graffiti. We want our vision to be in line with that goal."
North Creek Church began four years ago and is now at a point to begin the process of purchasing a building and seeing the fulfillment of this vision.
"We need people who will financially partner with us to revitalize an area of our city that needs two things: the love of Jesus and opportunities to create community relationships."
For more information, visit their website at www.19centsoffaith.com.