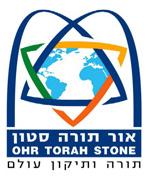 A coalition group called the Center for Jewish-Christian Understanding and Cooperation (CJCUC) has issued a statement on Jewish understanding of Christians. See the full statement here at the CJCUC website.
Center for Jewish-Christian Understanding and Cooperation– After collaborating and working with various Christian organizations, leaders, and scholars over the past three years, the staff members of the Center for Jewish-Christian Understanding and Cooperation (CJCUC) in Efrat and Jerusalem have released a statement of a Jewish Understanding of Christians and Christianity. CJCUC is the first orthodox Jewish entity to engage in dialogue with the Christian world.
In partnership with The Witherspoon Institute in Princeton, NJ, CJCUC recently unveiled their scholarly work at the Van Leer Institute in Jerusalem as well as at Yale University on the topics of "Covenant & Mission" and "Hope & Responsibility in the 21st Century." In addition, CJCUC has collaborated with scholars connected with the Hebraic Heritage Christian Center in Atlanta, GA, in discussing the issues of "Evangelization" and "Jewish Understanding of Christianity."
"Jewish and Christian theologies are no longer engaged in a theological duel to the death," the statement notes. It suggests that "Jews should not fear a sympathetic understanding of Christianity that is true to the Torah, Jewish thought and values. In today's unprecedented reality of Christian support for the Jewish people, Jews should strive to work together with Christians toward the same spiritual goals of sacred history—universal morality, peace, and redemption under God—but under different and separate systems of commandments for each faith community and distinct theological beliefs."
CJCUC's Founder Rabbi Dr. Shlomo Riskin said, "This statement only represents the view of our center but should also be used as a catalyst for other orthodox Jews and Jewry worldwide to consider fostering relationships with Christian communities. Leaders within the mainline Christian denominational world as well as the non-denominational movements of Evangelical Christianity have sincerely become friends of the Jewish people and the State of Israel. It is vital that we strengthen our relationship with them. We are certain that through these relational dialogues we will find far more which unites us than divides us."
To read the full statement, please visit www.cjcuc.com or Hebraic Heritage Christian Center's website at www.HebraicCenter.org.