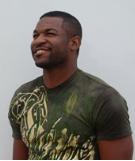 NFL star, Mark Clayton who plays ofr the St. Louis Rams as a wide receiver, tries gospel-based fashion
DALLAS, TX—While most sports fans recognize Mark Clayton as a wide receiver for the NFL's St. Louis Rams, another community recognizes Clayton as founder and CEO of MyChristianT.com, a hip apparel brand with Christian messages. As players across the country fumble for what to do with their time and talent during this lock-out, Clayton is busy furthering the brand he founded in 2010, with the goal of finding a place where faith meets fashion, both in trendy, wearable apparel, and in online social networking.
"Spreading the word of Christ has been my mission in any season," said Clayton, "but being able to expand the MyChristianT.com brand during this lock-out is gratifying. We have a lot going on!"
MyChristianT.com was founded in 2010 by Clayton when he recognized that apparel for men and women with fashion-forward designs could feature well-loved Christian sayings and scripture that would inform and inspire. As a newly launched online storefront, MyChristianT.com offers at the click of a mouse what most will be challenged to find in stores: a hip way to display the gospel message in a way that fits seamlessly into today's fashionable wardrobes. Screen printing industry trade magazine Impressions says that a T-shirt's message will be viewed 3,000 times in its lifespan, and MyChristianT.com believes that can be positive messages about Christianity and faith.
MyChristianT.com offers a trendy collection for youth and young adults, both men and women, that is both stylish and meaningful. The look of the designs is often compared to those offered by brands such as Ed Hardy, Affliction, or Aeropostale—but with its own identity and purpose. MyChristianT.com is made in the U.S.A. of high-quality T-shirts and hoodies offered at a reasonable price.
Recently, the company has launched MCT, an online network where users can share their stories, investigate their faith, participate in interactive online contests—and ultimately enjoy a safe haven to connect with others via spiritual discussions. This online spiritual resource center will include bible study references, church/small group locations, Christian book/film recommendations, interviews with Christian leaders and artists, as well as a free online social network
Clayton is a daily presence in the company, where he is a hands-on visionary and CEO. Clayton also continues his daily work-outs, maintaining his top physical shape even in this off season.
Clayton's perseverance and faith have played a large role in his career and in his life. While this talented wide receiver has set and broken records time after time, his focus has always been on a higher purpose: his relationship with God. Now, Clayton is using his entrepreneurial skills to bring spirituality into the fashion world, creating a place where faith meets fashion in the form of T-shirts and a complementary online community that fosters acceptance and brings a spiritual message to a new audience.
Clayton, an Oklahoma native, grew up in Arlington, TX, graduating from Sam Houston High School in Arlington. At Sam Houston, he was an all-state standout in track and football and was the second-leading wide receiver in District 7-5A as a senior. Upon graduation, Clayton signed with the University of Oklahoma, where he became a two-time 1st team All American choice and two-time consensus 1st team All Big 12. Clayton currently holds Oklahoma's career records for receptions, yards, catches, and 100-yard receiving games.
Clayton was drafted into the National Football League in 2005 as a first-round pick. He began his professional career as a wide receiver with the Baltimore Ravens, where he set records, including a rookie franchise record of 44 receptions for 471 yards and two touchdowns in 2005, as well as his nine 100-yard receiving games, the most in Ravens franchise history. In 2010, Clayton joined the St. Louis Rams, where in his first game with the team, he caught 10 passes for 119 yards to lead the Rams in both categories.
A majority of the proceeds from MyChristianT.com will fund the MCT network and other spiritual, creative, and educational opportunities for today's youth and young adults. These programs will include a college scholarship ministry, performing arts fund, mission trip rewards and outreach activities that will benefit the community. Additionally, funds will help support programs that help under-privileged families, foster children, homeless, and abused women and children.
Clayton also spends time giving back to other non-profits. He is a spokesperson and member of the Fellowship of Christian Athletes, as well as a founding member of Pros for Africa, which allows NFL players and other professionals from any field such as teachers, lawyers, physicians, and more to give back to a continent greatly in need. Clayton has a passion for speaking to young adults and teenagers, sharing his own story, and inspiring them to make decisions in their own life based on making the right choices and staying grounded in Christian principles.