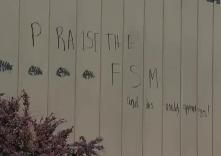 Atheists rally aid for Bend church
By Oregon Christian Post,
Atheists from across the country have united to raise several thousand dollars to help out two local Bend churches that were recently vandalized. The Bend churches, Westside Church and Christian Life Center were tagged with marking that read, "In Praise of the FSM", a reference to the Church of the Flying Spaghetti Monster. That prompted atheist, Hemant Mehta, of Chicago to create an online church cleanup donation fund. In less than 24 hours, he raised nearly $3,000. Reactions from the donation fund drew both criticism and support. The local churches that were affected say that the support from the community has been overwhelming, from both believers and non-believers.
Just last week, three Bend teenagers were arrested with spray cans in hand at a Bend park at 2 a.m. The teens, who were booked for criminal mischief, admit they spray-painted a Bend skate park and that they used washable poster paint to vandalize the two Bend churches. The teens spent last weekend cleaning up their cartoon images of Pokemon, Waldo from "Where's Waldo?" and others, including more vulgar messages that they say they had nothing to do with. The teens say they are happy to help clean up any graffiti that offends people and will pay the fees.
— Photo shows spray paint damage.