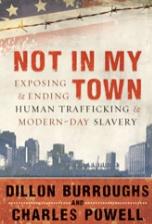 Modern Day Slavery in America and Abroad
— New Book Shows How Individuals and Churches Can Get Involved
In the 21st century, slavery still exists on every continent with the exception of Antarctica, and yet American schoolchildren are still taught that slavery was eradicated with the Confederacy in 1865. NOT IN MY TOWN: Exposing & Ending Human Trafficking & Modern-Day Slavery (New Hope Publishers), proves that slavery is sadly alive and well. The State Department will also be releasing their annual report on Human Trafficking during the week of June 19*, which will likely reveal that intervention is still needed.
No city and community are immune. According to the FBI, 15,000–18,000 people are trafficked into the US each year. Human trafficking ranges from labor in sweatshops, domestic servants, agricultural slavery and sexual exploitation. Cities like Atlanta and Las Vegas rank high in international trafficking because of their busy international airports. Forced prostitution is more commonly found in Las Vegas, sweatshops are frequently mentioned in New York cases, California and the Southeast are prime locations for agricultural slavery while domestic servants are found primarily in New York City and Washington, D.C.
As seen recently on FOX News, Burroughs and Powell bring awareness to this subject and hope to get individuals, communities and churches involved in bringing an end to modern day slavery. Not in My Town reveals:
* First-hand accounts and undercover interviews with victims, survivors and advocates for change.
* The human trafficking industry is a booming one—The Polaris Project reports that total yearly profits generated is $32 billion.
* Many industries support and profit from prostitution—billboard companies, real estate companies, landowners, and Internet companies.
* How You Can Get Involved—the authors provide a full chapter of ideas for how individuals can get involved.
* The book also includes a small-group discussion DVD, along with a discussion guide.
NOT IN MY TOWN answers questions and promotes discussion about the slavery system that crisscrosses Atlanta, Orlando, Las Vegas, New York, California, Texas, North Carolina, Haiti, India, Cambodia and beyond.
The authors' gripping journey shocks, but also motivates and provides resources to equip new generations of abolitionists from all corners of society who share the common call to stop injustice.
About the Authors:
— Dillon Burroughs is a bestselling writer known for his collaborative works with faith-based leaders, authors, and athletes, though he's also earned a growing reputation within the social justice movement.
— Charles J. Powell is an author, adventurer, abolitionist, and civil rights activist whose real life reads like a thriller novel, from encounters with Soviet spies at the end of the cold war, to his work as a bodyguard for royalty, to living undercover in the war on drugs. Charles appears on television, speaks at conferences, and writes for numerous publications on topics ranging from human trafficking, postmodernism to terrorism.