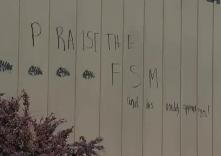 Church Crime Week: Two Bend churches vandalized, California church has 700+ year old relic stolen.
Faith News Notes:
California: In California a 780-year old church relic was stolen from inside the church. The theft occurred within 3 hours of when the relic was placed on public display at St. Anthony Church in Long Beach. Interestingly, the relic was display in celebration of the feast of St. Anthony which happens to be the saint of missing things and lost causes.
Oregon: Two Oregon churches suffered from criminal acts during the same 24 hour period. Two churches in Bend were tagged with spray paint that read "Praise the FSM". The FSM is believed to be a reference to the "Church of the Flying Spaghetti Monster" which is a religion critic movement. The graffiti hit an newly construction expansion and will be expensive to fix. The two churches that were hit were Christian Life Center and the Westside Church.
The Westside Church facility director told KTVZ news, "Yeah, it's a bummer what we have to go through and redo all this for a brand new facility. But the bottom line is that God is the one that's going to get revenge — we aren't.". More from KTVZ here including a video.