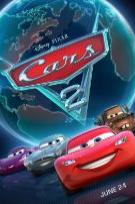 Family-Faith Film Review: Disney's Cars 2
Critics Rating: 36% (1-100)
Plot Summary: Star race car Lightning McQueen and his pal Mater head overseas to compete in the World Grand Prix race. But the road to the championship becomes rocky as Mater gets caught up in an intriguing adventure of his own: international espionage.
MPAA Rating: Rated G
Catholic News Service Rating: A-I : general patronage.
Reasons to Like: "Solid examples of honesty, sincerity and committed friendship are on frequently display"
Reasons to Dislike: "A tad bit more toilet humor than your typical Pixar pic—or even this film's predecessor, for that matter—a lowbrow streak that makes it even more difficult to warm up to the movie's overarching "love your friends for who they are" message."   (From Focus on the Family – Plugged In)