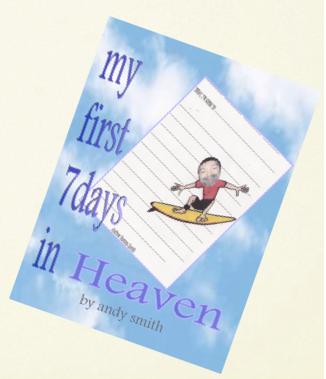 As the bestseller "Heaven is for Real" has recaptured the American fascination with Heaven, now comes another book just released on Heaven called "My first 7 Days in Heaven" by Dr. Stan DeKoven.  Just like the book "Heaven is for Real" it takes the reader on a journey where the eternal home is beyond our expectations and at time sour preconceived restrictions.    You may not equate humor with heaven, but with this new Heaven book be prepared to laugh.
RAMONA, Calif., — Dr. Stan DeKoven, PhD, President and Founder of Vision International University and Vision International Education Network announced  the release of the book "My First 7 Days in Heaven." By author Andy Smith.  Fun may not be the first word that comes to mind when one describes heaven, but fun is exactly what Andy Smith claims that it should be and why not? If the timeline for existence in heaven is eternity, then it most definitely should be fun. While streets of gold and mansions in the sky may be inviting to some, they are not how Andy plans to spend his time in eternity. In fact, he says that such accounts make him want to go to the gym and eat his vegetables.
Andy is obviously a fun loving kind of guy who not only enjoys life, but intends to enjoy heaven even more. Keeping this in mind, he has had a fresh revelation of what heaven will be and the rules that apply there. The basis for all of these rules is one fundamental fact, God is love. If God is love then every rule established there must be based upon that love.
What are the rules? How can the utilization of the rules create the fulfillment of one's dreams? Join Andy on his journey in, "My First 7 Days in Heaven." It is a humorous, heartwarming account of what heaven may be like. In his version the residents of heaven live out the reality of their dreams and the fulfillment of their fantasies day after day for all of eternity. What a wonderful place that would be. Most of all, it is bound to be fun.
This book is now available at Vision Publishing,
www.visionpublishingservices.com