By Sarah Warnock.
MA in Theological Studies at George Fox Evangelical Seminary
West Salem Foursquare Church
Please visit Dear India Project.
I've known since I was nine years old that I would dedicate my life to serving the God who so graciously gave me new life. I did not know what this would look like for some time, though. While I gathered bits and pieces of what God had in store for me as a youth and young adult, it wasn't until I heard the following story that the vision for my life began to take shape.
Award winning singer/songwriter Natalie Grant was watching an episode of Law & Order which featured the theme of human trafficking. She, like many Americans, didn't know that slavery still exists in the world, let alone America – "the land of the free and home of the brave." So she got online and Googled "human trafficking." Within six months, she and her husband were in the red-light district of Mumbai, India, to see firsthand what slavery looked like.
While touring a brothel with a local guide she noticed little ropes at the foot of the cots used for "business." She asked what they were for. The guide somberly informed Grant that the young women working in the overcrowded buildings often had children, and without the luxury of childcare, the women were forced to leash their infants and toddlers to the bed while the young mothers were raped up to 30 times a day.
As a result of the eye-opening trip, Grant started The Home Foundation to provide safe havens for girls who have been rescued from the commercial sex trade; homes that would provide the physical, mental and spiritual healing necessary for these young women (some as young as preschoolers) to live productive lives.
Now, this story is eye opening and inspiring, which caused it to have a positive effect on my life; however, the picture below ruined me.
You see, Grant later returned to Mumbai to visit the home her foundation had established. After singing so much she had begun to lose her voice. This picture was captured as these two little girls, once treated as property to feed sexual addiction, laid hands on Natalie to pray for her healing.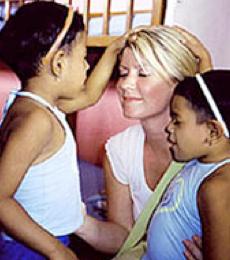 How good is God's grace that those who have been used as property would become the hands that heal those who seemingly have it all?
My calling to educate future ministers, mentor youth and young adults, and to facilitate healing through the church has not changed. But what has changed is my motivation. I want to be part of the healing that the girls in this picture display. I want to be part of what God is doing in the lives of victims and addicts alike.
Friends, will you pray with me? Will you join me in asking our God what we can do to be part of the healing and restoration we trust the Creator of all things is working toward?
Many Blessings,
Sarah