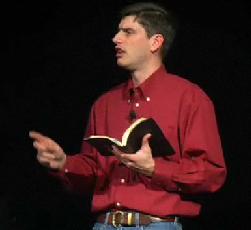 Billy Graham's grandson starts campaign in Kenya
CHARLOTTE, N.C., — Evangelist Will Graham wrapped up the three-day Will Graham Celebration of Peace in Nakuru, Kenya, on Sunday, July 10. A total audience of 14,500 attended the free celebration at the Mama Scrape Grounds, with 938 responding to the invitation to make a commitment to Jesus. Many in the audience persevered through ongoing rain storms to hear the message in the outdoor venue.
Nakuru was hard hit in the tribal violence that rocked the country of Kenya following political elections in December 2007. Within this context, Will Graham brought a message of peace and healing. "Whether we are looking at Kenya and the trouble here a few years ago, or the issues of hatred and sin around the world, it's a heart problem," said Will. "And the only answer to that problem is Jesus Christ."
Will was joined on the trip by his wife, Kendra, who spoke to 500 women at a rally on July 8. "God has decided not to forget you," she encouraged them. "Others may forget you. A spouse may forget you. A child may forget you. A church may forget you. But God will never forget you."
On Saturday, July 9, the Grahams attended the final youth soccer match of the two-week Will Graham Peace Tournament. Along with tournament trophies, Will presented the Gospel message to the 400 young Kenyans who took part in the games. He also signed certificates for each participant.
One unique aspect of this Celebration was the saturation of social media involvement. Both Will (www.twitter.com/TellaGraham) and Kendra (www.twitter.com/KGraham74) regularly tweeted updates, prayer requests, photos and videos during their journey. "For those who were praying…many thanks," tweeted Will at the conclusion of the Celebration. "As the rain fell, so God's grace fell on His people here in Nakuru." Conversely, thousands of Kenyans flocked to Will's Facebook page (www.facebook.com/WillGraham4), posting hundreds of messages of greeting and prayer support.
For more information on Will Graham Celebrations, visit www.willgrahamcelebrations.org.
To request audio of an interview with Will Graham and/or video b-roll from this event, contact Erik Ogren at [email protected] or (704) 577-2109. To view this release online and download high-resolution photos from the event, visit www.billygraham.org/smr.