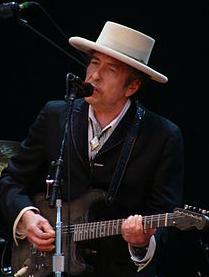 Book tries to decode Bob Dylan's faith, depression, music
A book published this week reveals a previously unrecognized illness resulting in Bob Dylan releasing only 1 original album in the entire 1990's. Dylan has been opening his recent shows with a song that was absent for 29 years. His newly re-written version of "Gonna Change My Way Of Thinking" contains the line: "I'm stepping out of the dark woods, I'm jumping on the monkey's back."
Dr. Bradford, a British family doctor and government health Commissioner, says the "monkey" referred to is reactive depression; the "dark woods" of which caused Dylan to release only one original album between 1990-2001.
The cover of Dylan's 1990 album "Under The Red Sky" contained the dedication, "To Gabby Goo-Goo." In 1986 Dylan had married his gospel back-up singer, Carolyn Dennis. She filed for divorce in 1990, and the nursery-rhyme songs of "Under The Red Sky" are dedicated to their daughter, Gabrielle Desiree. The marriage, birth and divorce were kept a secret until 2001, and so were unknown to reviewers of his next album, "Time Out Of Mind."
Dr Bradford says that the emotional trauma of the divorce produced a reactive depression, responsible for the next album (of original material's) title, "Time Out Of Mind." "Time Out Of (my) Mind" summed up the state of Dylan's mental health with songs containing symptoms of moderate-severe depression:
"All the laughter is just making me sad… You left me standing in the doorway crying, blues wrapped around my head." (Standing In The Doorway)
"There's voices in the night trying to be heard, I'm sitting here listening to every mind-polluting word." (Million Miles)
"I'm just going down the road feeling bad… They tell me everything is gonna be all right, but I don't know what 'all right' even means…" (Tryin' To Get To Heaven)
"Feel like my soul has turned into steel… Every nerve in my body is so vacant and numb." (Not Dark Yet)
"I'm beginning to hear voices, and there's no one around…" (Cold Irons Bound)
"Insanity is smashing up against my soul… Everything looks far away." (Highlands)
Dr. Bradford began writing the book to trace the sources of Dylan's lyrical inspiration, including the Bible, from 1985 – present day. He found evidence of reactive depression, which will affect 1 in 6 people at some point in their lives. One-third will be disabled to a moderate-severe degree.
Dr. Bradford says, "Depression is a treatable medical condition. It is time it lost its stigma. I hope that my book, which evidences depression's effect on one of the world's premier recording artists, will help remove that stigma and encourage sufferers to seek help."
"Out of the Dark Woods – Dylan, Depression and Faith (The Messages Behind the Music of Bob Dylan)" by Dr A T Bradford is published by Templehouse-Publishing.com (ISBN 9780956479822).