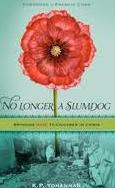 K.P. Yohannan Speaks Against Child Injustices in New Book
— Children of South Asia are Finding Hope in World of Despair
CARROLLTON, Texas — As a voice crying out on behalf of children labeled "slumdogs," Dr. K.P. Yohannan, founder and international director of Gospel for Asia, sheds light on the hope many South Asian children now have in the midst of the horrible tragedies they've faced.
In Yohannan's newest book, No Longer a Slumdog, readers will find story after story of children who went from being trapped in a life of heartache and impoverished existence to finding joy, laughter and a bright future. Despite the afflictions these children face — some as great as forced begging, abandonment and prostitution — Yohannan shows us there is opportunity for change, as many now find new life in God's redeeming love.
Nadish was one of these children who experienced a change after being kidnapped at 9 years old and becoming a child slave.
"The landlord forced me to clean up animal manure all day, and when I was done, he would lock me in a small room with the animals." His story continues: "Days turned into weeks, and my stomach would growl. He never gave me enough to eat. Weeks turned into months, and my body would ache. The work was hard, and there was never enough time to rest. Months turned into years, and I began to think that this would never end. I was trapped, alone, locked in this dark place with the other animals."
But through a miraculous event, Nadish found his way back into the loving embrace of his mother and the people who prayed for him daily during his captivity.
After reading No Longer a Slumdog, author and pastor Francis Chan's heart was challenged once more for the children of South Asia.
"I am very thankful for this book," Chan said. "It has stirred my heart once again."
No Longer a Slumdog, depicts the urgency of God's plan to rescue the millions of precious children stuck in a cycle of hopelessness.
"As I worked on this book, the statistics and stories of these children drove me to desperation to do everything I could on their behalf," Dr. Yohannan said.
Amid the rising concern for social justice, Yohannan passionately calls out for the world to hear these children's muffled cries and join him in bringing them freedom.
Gospel for Asia (www.gfa.org) is an evangelical mission organization based in Carrollton, Texas, involved in sharing the love of Jesus across South Asia.