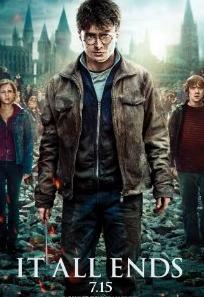 Family-Faith Film Review: Harry Potter and the Deathly Hallows: Part 2
– Critics  Rating: 97%
– Catholic News Rating:  A-II — adults and adolescents.
– MPAA Rating:  PG-13 for some sequences of intense action violence and frightening images
– Harry Potter Deathly Hollows 2 Plot: The final chapter begins as Harry, Ron, and Hermione continue their quest of finding and destroying the Dark Lord's three remaining Horcruxes, the magical items responsible for his immortality. But as the mystical Deathly Hallows are uncovered, and Voldemort finds out about their mission, the biggest battle begins and life as they know it will never be the same again.
Reason to Like: "All in all, this eighth film is a compelling capstone that highlights sacrificial bravery, casting Harry as a Christ figure who willingly lays down his life for the sake of those he loves. Clearly, Rowling appreciates and respects that biblical theme". (PluggedInOnline.com)
Reason to Dislike: "Ongoing fascination with witchcraft, along with their willingness to seek guidance from the dead, leads in a spiritually perilous direction." (PluggedInOnline.com)