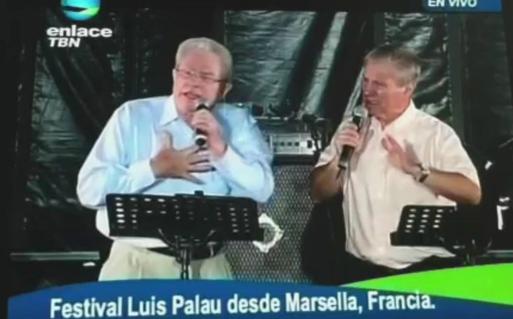 Luis Palau Leads Unprecedented Evangelistic Campaign in France
By Luis Palau Association
MARSEILLE, France, July 7, 2011 /Christian Newswire/ — In a country that has resisted open proclamation of the Gospel for hundreds of years, God provided a much needed breakthrough this past week in southern France, focusing attention on the city of Marseille and the greater area of Provence.  Invited by 1 Meme Coeur, an organization made up of church leaders from throughout the region, world evangelist Luis Palau led historic evangelistic campaigns in the cities of Istres, Aix-en-Provence, and Marignane. The campaign culminated in a three day "gospel" festival on Marseille's crowded Plage du Prado beach.
Riding on the tails of France's official Day of Music (June 21), and appealing to France's affinity for gospel music, the festival in Marseille helped reach 16,000 people with the Gospel. The festival included a clear Gospel message from Palau, as well as special musical performances by guest artists from throughout France and the United Kingdom. Palau was also joined by the 73-member Salem Baptist Gospel Choir from Chicago, led by Rev. James Meeks.
The campaign, involving more than 30 evangelical congregations and 3,000 active believers, proved to be the first time such events were allowed to be held in open venues, including amphitheaters, public beaches, and parks throughout the region. Also, in historic fashion, the gatherings brought together civic and church leaders as never before, breaking down barriers and establishing relationships that will last for years.
At the heart of it all, as always, Palau was looking to share the Good News of Jesus Christ with as many people as possible. And although the audiences tended to be small in comparison to past Palau events in other nations (800,000 in Buenos Aires, Argentina in 2008), the campaign was no doubt historic. According to local pastors and leaders, the events were truly groundbreaking for the region. Hundreds of individuals made public decisions for Jesus Christ in response to Palau's Gospel proclamation that was given in Spanish and translated into French.
"For Luis and his experiences," said Marcel Fontana, president of 1 Meme Coeur, "this must seem depressingly small. But for us, it is a unique breakthrough. The city of Marseille thanks Luis for his heart and passion for France."
"This is historic for us in Provence," said Gilbert Leonian, chairman of 1 Meme Couer. "Never have we seen such open doors or had so many opportunities to openly share the Gospel."
With an approximate population of 1.5 million in the region of Provence, active Christians in the area comprise only a fraction of this number. Yet, this unprecedented partnership brought unity and collaboration seldom seen in the area. And the result: thousands reached in person with the Gospel and hundreds led in decisions for Jesus Christ.
Unique to this campaign, several area mayors not only welcomed Luis and his team, but also officially sponsored the events — offering financial support and endorsement for the openly Christian gatherings (an unheard of development given France's secular constitution).
Early in the week Palau and the team were invited by the Mayor Adjoint of Marseille, Roland Blum, for a special reception at City Hall. He told Palau, "We need your spirit. We need your message. We look forward to what you have to say to our city."
Several mayors from the surrounding area shared the same sentiments at a gathering later in the week, greeting Palau and the team enthusiastically and offering support in whatever way possible. The Mayor Adjoint of Marseille went on record saying, "We'll be behind you next year and every summer. We'll offer you the beach as many times as you wish."
Never before has France seen a partnership like this one where the City of Marseille and the regional government showed their support as festival sponsors. The festival's preceding Season of Service, a critical community service element of Palau's festival outreaches, was a major reason for the civic support.
Also unique to this campaign, Gospel message reached even more people as the festival was streamed on the Internet and broadcast live on Enlace satellite TV to millions of viewers throughout the world. Future broadcasts will air on DieuTV in Switzerland and France, as well as sub-Sahara Africa. Plans are also in the works for broadcasts through CNA Satellite TV to Islamic countries in North Africa and the Middle East.
"Small as it was by the numbers we are used to," said Palau, "I am so glad I came to southern France. The Lord used this campaign to open doors, to plant seeds, to establish relationships, and to lead hundreds of people to Himself. There is nothing greater than that. In addition, because of the wonderful multiplier effect of mass media, we had the opportunity to reach many more people through the Internet, television, and radio."
Many members of the organizing committee remarked that it was amazing to see the Gospel clearly and publicly proclaimed to their fellow countrymen. There is great hope and excitement among the churches to work together again to share the Gospel in even more ways in the years to come.
To learn more about Luis Palau's worldwide evangelistic ministry visit www.palau.org.