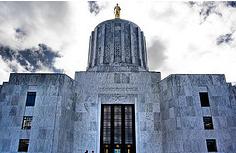 Faith News Note: After the national attention of the Casey Anthony verdict, it has brought renewed focus on how state's deal with parents who fail to report their children missing. Now we are seeing several states, Delaware, North Carolina, Virginia, Tennessee and Florida debate whether a new law needs to be passed to fully address this particular type of neglect. Oregon lawmaker, Shawn Lindsay announced this month that he wishes to pass a Caylee's Law during the February Legislative Session. Shawn Lindsay's press release is below:
SALEM – Rep. Shawn Lindsay (R-Hillsboro) announced he'll introduce "Caylee's Law" during the next legislative session in February. He said the legislation would require parents, guardians and caretakers to report the death or disappearance of a child within 24 hours.
"As a parent, there's nothing more frightening than the loss or disappearance of a child," Rep. Lindsay said. "Unfortunately, recent events in Florida show some parents don't share the same sense of urgency during such an emergency. Caylee's Law will help ensure that law enforcement is notified immediately so they can pursue justice for an innocent child."
Rep. Lindsay said Caylee's Law will impose penalties on parents, guardians and caretakers who fail to notify law enforcement of the death or disappearance of a child. He said the law will serve as an additional tool for law enforcement as they seek to locate a child and prosecute those who are responsible.
"I am listening to the outpouring of phone calls and emails I have received urging the Legislature to adopt this important measure," Rep. Lindsay said. "I agree that someday, Caylee's Law may save the life of a child in Oregon. I look forward to bringing this bill to the Legislature in 2012."