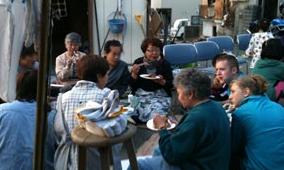 Oregonians helping in the Japan quake zone  
By Sheila Allen
NW Baptist Convention
MCMINNVILLE, Ore. — When Ronny Cooksey and Nathan Prewitt first outlined plans for a small team from Valley Baptist Church to go and minister in Japan, no one knew the devastation that would precede them to the island nation. The McMinnville, Ore., team was prepared to go to help 'till the soil' for the gospel alongside International Mission Board missionaries already on the field.
The effects of the monumental earthquake and tsunami changed the course of the trip, but possibly offered more opportunities for the team of four to make a difference in the lives they encountered.
"I previously served as a missionary with the International Mission Board in Japan for ten years," said Cooksey, now pastor of Valley Baptist Church. "We thought we would be there forever, but in 2006 God spoke clearly to me and my wife, Kathy, and we both felt he was moving us. While in Japan we served as the only IMB missionaries in a region of Tokyo that was home to 7.5 million people, a portion of the 35 million people in that city. I knew when I left there I wanted to come back and bring other people to serve in Tokyo."
Cooksey's oldest son, Micah, was just three years old when his family moved to Japan, where they stayed ten years. Micah, now 17 years old and already a college graduate of Thomas Edison State College and attending Midwestern Baptist Theological Seminary through an online program, accompanied his father on the trip, as did Prewitt and Marcus Sauble.
"We wanted to go to Okayama originally, to help the missionaries on an evangelistic groundbreaking trip and scout areas for a potential new church," Cooksey said. "All four of us surrendered to go thinking we would pay for our full trip, but the church really stepped up to help us. We were asked to change our focus for the trip by the missionaries and ended up working in Ishinomake, Kamaishi and Miyako."
The team gave support to two bases of operation, one in a suburb of Sendai, a city hit hard by the natural disaster. While there, team members slept on the floor of a church, helped with food distribution, performed some manual labor and worked to prepare an old, dirty house as accommodations for future teams traveling to give assistance.
"I was pretty fluent in Japanese when we left four years ago, and had lost some of the language, but it started to come back to me pretty quickly," Micah Cooksey said. "We gave out gospel material but mostly we just cultivated relationships. People are more open in general to receiving food and help, where previously they would never accept anything from anyone. They were also more interested in what we had to say – even people in the airport were so appreciative of our efforts."
Even seeing images of the damage prior to the trip, the level of devastation was shocking to the Valley team.
"It was just amazing how widespread the damage was," Micah Cooksey said. "It was a lot more emotionally draining than I expected. I felt like we accomplished a lot, but there is only so much you can do in a few days. After I arrived, I wanted to stay for a year. You can assume those you pass on the street aren't Christian," Micah Cooksey said. "Most have never even heard the gospel."
"It got to the point where the destruction was normal," said Prewitt, who had formally studied the Japanese language for four years. "It took a couple of weeks for the things we saw to really soak in, and I have never experienced anything like this emotionally before."
Less than one-half of one percent of the population in Japan claims Christianity, according to Ronny Cooksey. There is only one evangelical church for every 20,000 Japanese people, and many of those churches have 25 people in attendance.
"It will take years to dig out of the heaps and heaps of rubble and stacks of ruined cars," Cooksey said. "There is an endless amount of service work to do that will make a way to share the gospel. The people are the most open they have been since World War II. The things they trusted in before are shaken. Almost everyone that survived had a relative they lost. Because they already lived in extended family situations, many have no place to go."
Disaster relief funds provided through the International Mission Board provided the funds to purchase the food the team gave away and included such items as cups of noodles, fruit, toilet paper and bottled water, propane canisters and kettles for cooking.
A highlight of the trip for Prewitt was a barbeque the Valley team hosted in Kamaishi.
"Throughout the evening we served in Jesus' name, spoke with them, listened, sang hymns and laughed together," Prewitt said. "When we left them, my heart was changed permanently, for the better. I felt like we really made a difference this time, and my hope and prayer is all the people we fellowshipped with that night will come to know the Lord Jesus, and follow him. They know his name and we did our best to show his love for them."