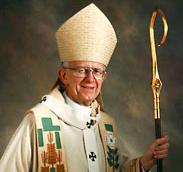 Portland Archbishop on Oregon Catholic church growth & reductions
By Faith News Note:
The Seaside Signal newspaper did a great interview with the Portland Archbishop John Vlazny. Several questions were asked but What took up most of the interview was questions on people leaving the Church and the Catholic Church's efforts to reach new people in an age when church attendance is falling across the religious spectrum in America.
Archbishop John Vlazny has good news as he tells the Seaside Signal that Oregon churches "are more crowded than ever" with 1000 new Catholics in past year.
The Archbishop went on to say, "But the outreach to get more people to come in is a challenge for all churches these days. And frankly we are not as good as we thought we could be ten years ago. When we turned the corner on the new millennium one of our goals was to be more focused on reaching out to those alienated or hurt by the church. You know what? We got caught in our own mess over the last several years with litigation, the child abuse scandal, and unfortunately we had to get our own house in order. I wish at the end of my time as Bishop we will have been more successful especially in drawing people back. But we are still focused on that and we are going to keep making an effort. I am sure my successor will pick up on that. I know my pastor is very serious about that."
More than not the people that are coming to the church are people who have had no church in their lives. They have sort of an experience, something happens to them, either they go to a wedding or a tragedy happens and they meet a Catholic who helps them. Once in a while there will be Catholics that come back, but it seems the more people that I meet are people that just have no church and they find that the church can be helpful to strengthen their relationship with the Lord.
To the question of who is leaving and who is entering the church in Oregon the Archbishop said, "And of course there are all the new ethnic groups. I am amazed to see all the Koreans, Hispanics, Indonesians and other groups coming to the church. The church is pretty good at welcoming them. They look for a place where they can come and worship. It is really God's work."
Read the full article here.