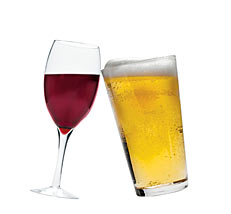 Despite a more liberalized society, young adult Christians abstain from drinking alcohol at the same rate as older Christians.
By ChristianCafe.com
TORONTO, Ontario, — Online dating service ChristianCafe.com analyzed dating profile data, specifically alcohol consumption among Christian singles. Among members of the Christian dating service that are 21 years of age and over, the majority (65%) either abstain from alcohol consumption, or rarely partake. Of specific interest, Christian singles are abstaining from drinking alcohol at the same level regardless of their age.
While for some members it's simply personal preference, biblical interpretation is a major factor for their action. "We can interpret this as the younger Christians being as committed to their beliefs as older Christians," stated Sam Moorcroft, President and co-founder of ChristianCafe.com. He also notes that not all Christian denominations believe drinking alcohol is wrong biblically, but many do.
Data also shows there is also no significant difference in drinking rates when comparing Christian men and Christian women.