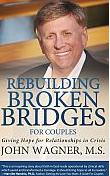 New book asks the question "Once a Cheater, Always a Cheater?"
ENUMCLAW, Wash.,– Is there hope for marriages torn apart by infidelity? Celebrity marriages and couples on your block or in your church might say no. But marriage therapist and author John Wagner disagrees. Wagner offers his own marriage to his wife, Susan, as exhibit A.  Wagner had an affair, and Susan divorced him. But a year and a half later, they remarried. Today they lead marriage conferences, and Wagner, a Certified Advanced Imago Relationship Therapist, has helped over one thousand couples heal each other and their marriages using Imago Relationships skills and processes.
In "Rebuilding Broken Bridges (For Couples)" (WinePress Publishing, 2011), Wagner says couples don't want divorce, they want an end to pain. If 85% of couples could end their pain, they probably would not divorce.
Imago therapy principles and research into love and relationships mesh well with key biblical teachings, he says, particularly about repentance and the marriage covenant—teachings he believes churches often neglect.
"The church is failing to help marriages," Wagner says. "More Christians than non-Christians now are getting divorced. Most Christian books on marriage deal with relationships at a surface level with ideals that couples in crisis can't reach. I wanted to share the powerful skills and tools in Imago with the Word to help couples learn a deeper process to potentially heal woundedness and shame."
Can an unfaithful spouse ever be trusted again?
"The journey of rebuilding trust is a long one and totally depends on the person who was unfaithful," Wagner says. "Are you open and willing? If yes, then trust can be rebuilt."
Imago Relationship Therapy, developed by Harville Hendrix, focuses on teaching couples how to connect and how to help each other heal. "Imago is a Latin word that means 'image,'" Wagner says. "As we grow up, we see our caretakers as a father and mother and a husband and wife. The quality of that image affects us as adults in our romantic relationships."
Wagner's first career was in show business. For 25 years he sang and played saxophone with the doo-wop group The Diamonds.
Wagner and his wife, who have three children and nine grandchildren, live near Orlando, Florida. They appear frequently on various Christian TV and radio talk shows, such as a local program, The Good Life, telling their story. They attend Markham Woods Assembly in Longwood, Florida.
For more information, to request a review copy of "Rebuilding Broken Bridges (For Couples)," or to schedule an interview, please contact Josiah Williams by phone at 360-802-9758, by email at [email protected], or by fax at 360-802-9992. To purchase a copy of this book visit www.winepressbooks.com or call 877-421-7323.