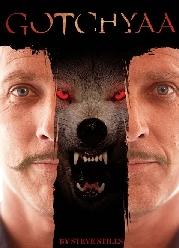 Identifying con artists within the church
SAN FRANCISCO — The much–anticipated fourth book from Christian author Dr. Steven Stiles entitled Gotchyaa! – Surviving Con Artists in the Church was released today in paperback and in Kindle edition on Amazon.com. "Preachers, evangelists, teachers, counselors, businesspeople, and acquaintances of all stripes comprise the caring fellowship of the believer. Those are the ones we have learned to trust. Yet in our broken world, not all is as it seems. Not everyone is safe, not all intentions are good, and not every explanation is true. There is reason to beware, there is reason to be your brother's keeper, and there is reason to stay close to the Shepherd." — Dr. Steven Stiles, a quote from Gotchyaa!
Have you ever wanted to give money to a person in need but wondered if it was the right thing to do? Will your gifts be spent on food or on supporting a drug habit? Do strangers appear at your church asking for help?
Follow a resourceful couple as they visit the churches and ministries of America. Their travels will reveal a dark side of American culture while shedding light on the vulnerability of the church. Disturbing, occasionally galling, at times heartbreaking or even humorous, these vignettes of life on "the street" are interwoven with practical suggestions for fulfilling Jesus' commands to help those in need.
Questions at the end of each chapter encourage a time of reflection. They may be used as discussion topics for either individuals or small groups to help readers apply what they have learned as they get the inside scoop on how the street game is played against the church.
A separate workbook is also available. It suggests scriptures for discussion, self-inventory questions, action steps, and strategies for individuals and small groups to apply what they have learned.
Readers can learn more about the book at www.Gotchyaa.com.
About the Author
Dr. Steven Stiles, a pastor, teaches addiction studies at Western Seminary in San Jose. He taught for thirty years at Bethany University in Scotts Valley, California. He is the author of Thorns In The Heart, Recovery for Codependency, and Journey On The Hard Side of Miracles.