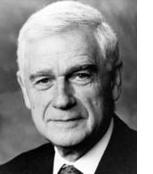 Lawmaker recalls Hatfield faith influence
Oregon Faith News Note:
State Representative Vic Gilliam told the Statesman Journal on how he first met Oregon Senator Mark Hatfield who passed away this summer.  It was 1996 and Rep. Gilliam was only 13.   His father was president of Warner Pacific College and Mark Hatfield was Oregon's governor running for the U.S> Senate.  Hatfield was speaking at a chapel service at Warner so Gilliam's father brought him along.   Hatfield spoke about his faith and how it works with being an elected official.   Hatfield both wrote and spoke openly about his faith as a governor and United States Senator. Gilliam met Hatfield and signed his name for him.Gilliam would later work for Hatfield.   You can read more on Representative Vic Gilliam's encounters with Mark Hatfield here.