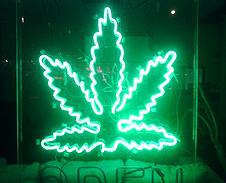 Vancouver Residents Remove Controversial Medical Marijuana Signs
By Oregon Faith News Note:
A Washington-based medical referral company, PacMed Labs, has raised the ire of some Vancouver residents by posting signs offering medical marijuana cards for $150. According to PacMed Labs, it's simply a referral company helping connect qualified patients with doctors willing to evaluate and appropriately provide them with medical marijuana to help treat chronic health conditions.
Some residents don't see it that way. PacMed Labs did not ask permission before erecting the signs, placing them in neighborhoods and on property where they're not wanted, including near at least one school. Concerned residents began tearing the signs down and complained to local authorities.
While Clark County law enforcement said that PacMed Labs hasn't necessarily run afoul of any laws, it did call the hotline advertised on the signs and expressed concern that callers might be inappropriately "coached" about how to obtain the cards. PacMed subsequently changed the hotline script to address concerns over its tactics. The company also acknowledged it should have done a better job of sign placement.
Click HERE to read more…