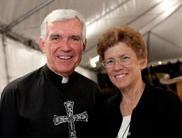 California Sister Assisting Immigrants is Named Winner of National Lumen Christi Award
— Sister Gabriella Williams, O.P. and Diocese of San Bernardino to Receive Two $25,000 Grants from Catholic Extension for their Ministries
CHICAGO—Catholic Extension today announced that Sister Gabriella Williams, O.P. of the Diocese of San Bernardino, Calif., has been named the winner of the 34th Annual Lumen Christi ("Light of Christ") Award. The Lumen Christi Award was established by Catholic Extension to highlight an outstanding individual who has shown a special dedication to serving people in his or her under-resourced diocese.
A special Mass and award reception will be held on Wednesday, Sept. 21, at Our Lady of Perpetual Help Church in Indio, Calif. The Mass, with Bishop Gerald R. Barnes presiding, will begin at 5:30 p.m. PDT. Mass will be concelebrated by Catholic Extension President Father Jack Wall. A reception will follow, in which Fr. Wall will present Sr. Gabi with the Lumen Christi Award. All are welcome to attend.
Sr. Gabi, as the Lumen Christi Award winner, will receive a $25,000 grant to assist her in her work. In addition, the Diocese of San Bernardino, where Sr. Gabi ministers, will receive an additional $25,000 grant.
"These grants are provided in the spirit of Catholic Extension's mission to strengthen and support the growth of the Catholic Church in under-resourced faith communities," said Catholic Extension President Father Jack Wall. "We are pleased to assist Sr. Gabi in her ministry through funding that will help her continue to extend the light of Christ to those around her."
Sr. Gabi was nominated for the Lumen Christi Award by Bishop Gerald R. Barnes of the Diocese of San Bernardino.
Eight years ago, when Bishop Barnes requested that Sr. Gabi work in outreach ministry to the poorest of the poor, she responded with great enthusiasm. Sr. Gabi has since shared her gifts with the poor, including many Catholic field workers and hourly laborers, in the Coachella Valley. In hundreds of trailers with unsatisfactory conditions, Sr. Gabi advocates for struggling individuals and families. Sr. Gabi and Sr. Teresita Navarro, a member of her community, work to offer a pastoral presence to these groups. Catechesis and after-school tutoring take place in the park. Sr. Gabi is the presence of the church with these people who have suffered so much injustice and indignity. While working to enrich their faith lives, Sr. Gabi also couldn't help but notice the assistance these individuals and families desperately need with basic necessities, so she answered that calling as well. Most of the trailer parks do not receive the infrastructure and resources that many people take for granted, such as electricity and water treatment. In addition to her pastoral presence, she helps low-income earners connect with help from the county.
One of Sr. Gabi's biggest projects is near completion. She is working with a non-profit organization called "Communidad de San Jose" to create a facility for adult and youth learning. The facility will be the first of its kind to offer people of this under-resourced area opportunities for basic education, tutoring, technology, English as a Second Language and health and nutrition classes. Because of Sr. Gabi's tireless efforts to fundraise and work with governmental agencies to receive the necessary permits, this facility is a dream coming true for the local community.
Gabi plans to use Catholic Extension's Lumen Christi Award grant to purchase laptop computers, software licenses, chairs and computer tables to create a technology room within the Communidad de San Jose. The technology room will be used primarily for after-school programs for school children and teenagers that do not have access to the technology they need to complete their studies. Sr. Gabi also hopes to use the facility for college preparation and to begin a trade school to teach vocations to those who do not attend college.
"The Communidad de San Jose will be the first facility of its kind in the area—it will be a resource for the community," said Sr. Gabi. "I am extremely grateful for the recognition and funding from Catholic Extension, which will help us continue our work and supply this facility with essential technology for the programs we plan to offer to local residents and families."
In addition to her work to open the Communidad de San Jose, Sr. Gabi works on housing issues that are prevalent in many of the local trailer parks. Primarily, she works with legal agencies to improve fire safety, to clean up raw sewage that often leaks onto the ground and to remove naturally occurring arsenic from the water by securing more frequent water testing and the installation of water treatment systems.
Most importantly, Sr. Gabi is dedicated to creating a true sense of Christian fellowship among the diverse groups of the geographically vast Diocese of San Bernardino. Her outreach to parishes in the diocese has yielded fruit beyond financial contributions—she has created volunteer opportunities that build relationships, bridging the gaps between diverse cultural communities and various income levels.
"Sr. Gabi's devotion to providing resources and support to the poor in San Bernardino are a wonderful expression of the mission of Catholic Extension," said Fr. Wall. "Her ability to share the light of Christ with those in challenging situations is one of the primary reasons she was chosen as the winner of the 2011 Lumen Christi Award."
####
About Catholic Extension
Catholic Extension, based in Chicago, is a national fundraising organization committed to supporting and strengthening under-resourced Catholic communities across the U.S. The organization provides funding resources to dioceses and parishes through programs and services investing in people, infrastructure and ministries. This support is given based on need, passion and commitment to the growth of the Catholic faith. Since 1905, Catholic Extension has distributed nearly $500 million to communities across America. For more information, visit www.catholicextension.org.